Following a violent and tense referendum day, Catalonia's president Carles Puigdemont has declared that the Spanish region he heads has earned the right for its independence.
Hundreds of people were reportedly injured as Spanish police and Guardia Civil attempted to block voting in the ballot whose turnout was reportedly 42.3%. Catalan officials said that 90% of voters backed independence in Sunday's (1 October) contentious referendum
Spanish Prime Minister Mariano Rajoy denounced the poll, claiming Catalans had been fooled into participating. Rajoy called the vote a "mockery" of democracy.
But one expert noted that the government's violent response may have strengthened Catalonia's hand in gaining independence.
Writing for El Diario, journalist and political analyst Ignacio Escolar said those supporting independence had achieved two strategies with their referendum which Rajoy had helped.
The first was to successfully hold the referendum despite it being ruled illegal. Secondly was to force the Spanish government to respond to prove its inability to solve issues through dialogue and that Sunday's vote proved that both goals were met, Escolar argued.
"Thanks to Rajoy, against all odds, both strategies have worked: that of voting and of repression. The 1-O has been a loss for Mariano Rajoy and a triumph for those supporting independence, who today are closer than yesterday in achieving their goals," Escolar wrote.
Calling the orders to the police and Guardia Civil "disproportionate and abusive," Escolar said the government's response has also tarnished Spain's image throughout the world.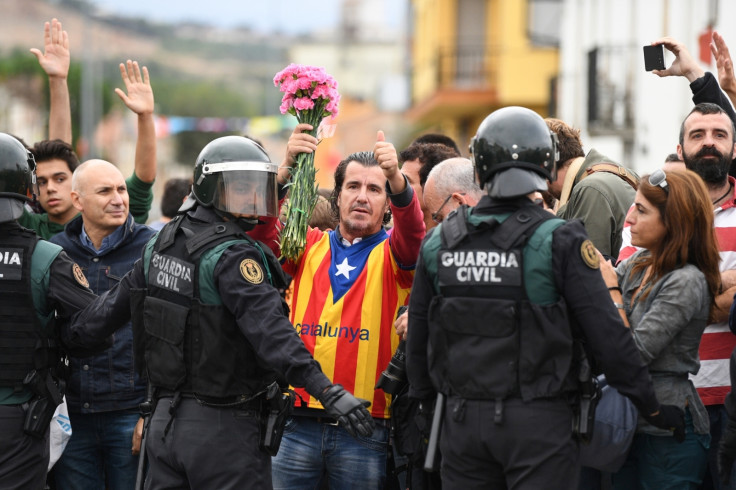 He added: "If one day Catalonia manages to become independent, Prime Minister Mariano Rajoy Brey will have won the historic right for a grand avenue in Barcelona with a bronze statue as the founding father of the country."
The vote had been ruled illegal by Spain's constitutional court, prompting Madrid to order officers to seize ballot papers and boxes at polling stations throughout the restive region.
But the Catalan leader was triumphant in his address after the ballot, saying in a televised address: "With this day of hope and suffering, the citizens of Catalonia have won the right to an independent state in the form of a republic.
"My government, in the next few days will send the results of today's vote to the Catalan parliament, where the sovereignty of our people lies, so that it can act in accordance with the law of the referendum."
Puigdemont noted that the European Union could no longer "continue to look the other way," the BBC reported.
Catalonia is a wealthy region of some 7.5 million people in northeastern Spain, with its own language and culture. The Catalan government said that around 2.26 million of the region's 5.34 million voters were able to cast their vote on Sunday.