Did Suge Knight murder Tupac and Eazy-E? Death Row founder's son speaks out
Knight is currently in jail awaiting trial for a hit-and-run incident, which took place in January 2015.
The son of hip-hop icon Suge Knight has come to his father's defence in light of the plethora of theories that his father murdered rappers Tupac Shakur and Eazy-E. The Death Row Records founder is currently in jail awaiting trial for a hit-and-run incident but Suge Knight Jr insists his father's actions in the crash were in self-defence.
Knight, 51, has long-been accused of organising the murder of Tupac, who died in a drive-by shooting in September 1996. Conspiracy theorists have also floated the suggestion that the music mogul orchestrated the death of NWA legend Eazy-E, who passed away in 1995 due to complications of aids.
In a rare and candid interview, Knight Jr addresses the long-running allegations, which he says are entirely false. The 21-year-old told BET.com: "They say he killed Tupac. Well, I don't know how he killed him when my father took a bullet to the head while he was in that car. He went into deep depression after Tupac died. People don't know that 'Pac actually tried to save my dad's life."
Knight was in the car when Tupac was shot by an unknown suspect and suffered a gunshot injury himself. However, the music executive fuelled rumours of his involvement in Eazy-E's death when he made an ill-advised joke about killing the rapper in a TV interview with Jimmy Kimmel Live! in 2003.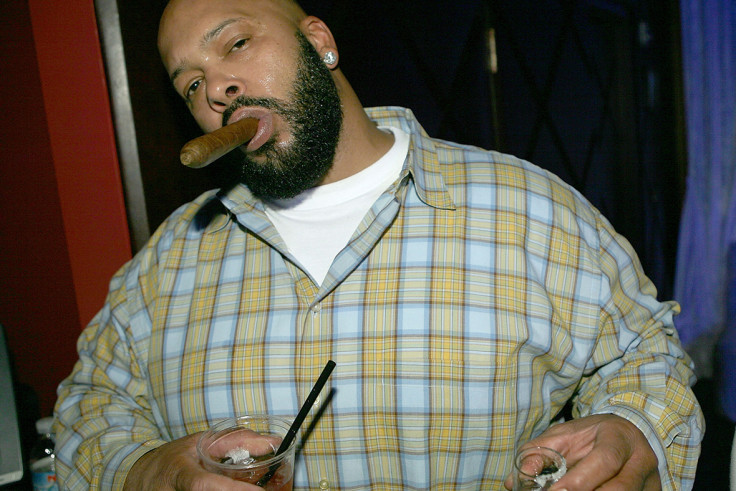 Suge Knight has spent two in jail awaiting trial for a hit-and-run murder case
Chad Buchanan/Getty Images
Ridiculing the notion that his father could have murdered both musicians, Knight Jr said: "Anyone who's a real businessman would ask, 'Why would you put so much money into someone then hire for them to be killed?' That makes no sense... Rappers with actual rape cases, and they still get support. These people don't have actual evidence of my father killing Tupac or Eazy-E, so fans pick and choose what sins they want to support and which ones they don't."
Earlier in February, Knight Jr wrote an impassioned Instagram post accusing the prison system of mistreating his father during his current incarceration. Knight has been holed up in jail since January 2015, when he was arrested for running over and killing record label boss Terry Carter and injuring Cle Sloan with his car.
Defending his father and sharing his opinion of the fatal events, Knight Jr said in the interview: "What I saw was the [person who was struck] run up to the car. If that's anyone who fears for their life, if that's anyone who fears Suge, I don't think they would be running up to his car."
He continued: "Me knowing my father personally, I paid attention to the angle that he drove at. He is partially blind in his left eye because of his diabetes. My dad has really bad health. So, seeing the person pick up a gun in the video and going into trials with people crying and this "no-snitch" policy, it makes everything questionable for me. This was obviously a self-defense case and they know that in the court. That's why during the hearing, they rush everything out."
© Copyright IBTimes 2023. All rights reserved.