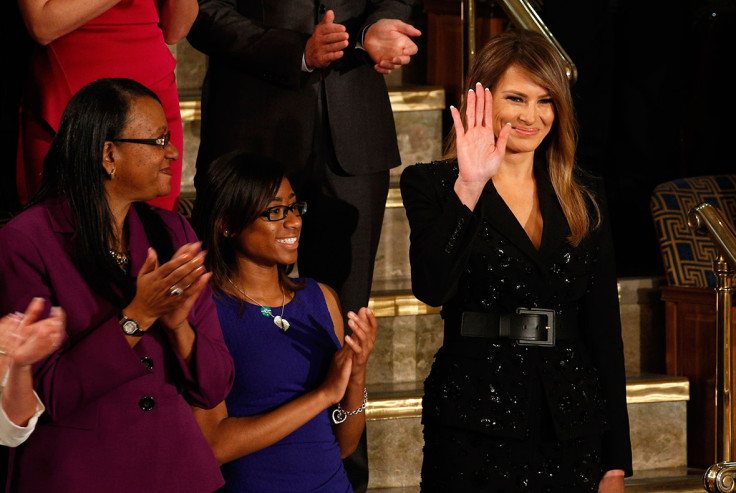 Melania Trump radiated happiness upon arrival at Congress on Tuesday evening (28 February) as she received a standing ovation before hearing husband Donald Trump's "biggest speech yet".
After IBTimes UK reported last week that the First Lady of the United States is already "miserable" with her new life in the political limelight, the 46-year-old's latest public appearance couldn't tell a more different story.
The Slovenian-born former model also dressed to impress in an ultra chic sequinned Michael Kors black suit which highlighted her svelte figure with its wide black waist belt. And Mrs Trump proved she isn't tight on the purse strings when it comes to fashion, as the jacket retails at an eye-watering $5,000 (£4,053) and the skirt goes for $4,600 (£3,728).
Mrs Trump was accompanied by her stepdaughter Ivanka – who wore a $2,995 (£2,429) one-shoulder red Roland Mouret Rawlings dress – and her husband Jared Kushner. Special guests at President Trump's first address in Congress also included the widow of conservative judge Antonin Scalia, Maureen McCarthy Scalia and the wives of two police officers killed by an illegal immigrant.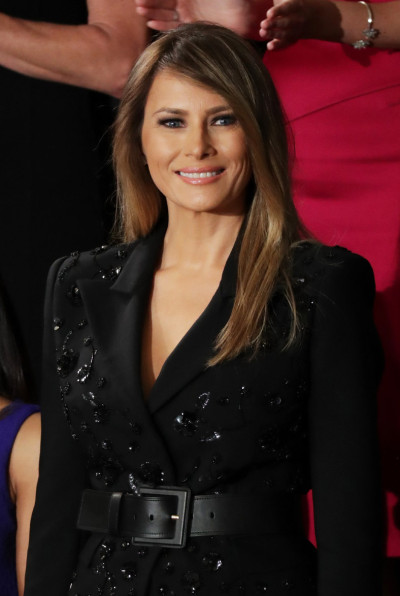 The former model was delighted by the standing ovation, and smiled from ear to ear as she gave a little wave.
During his speech, Trump said he was honoured to have Maureen Scalia – who was just a few seats away from his wife – at the event. He announced that federal appeals court judge Neil Gorsuch – seen as an ideological successor to Scalia's husband – was the president's choice to succeed him on the Supreme Court.
Despite her high spirits at Congress, it has been reported that Mrs Trump is not entirely happy in her new role. Her recent retreat from the public eye has made her the butt of the jokes from late-night hosts. Earlier this month, Jimmy Kimmel quipped she is "trapped like Rapunzel" in her lofty penthouse.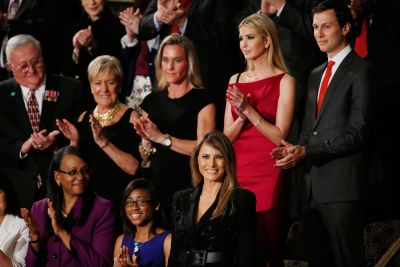 "This life wasn't her dream. It was Donald's," a family friend of the Trumps, Phillip Bloch, told US Weekly. "Truthfully, it's a lot to cope with."
Melania Trump came to the US in 1996 to work on her fashion career and is reportedly unhappy with the unwanted jolt into politics. "Melania is unhappy with how her life ended up," one family source claimed. "She is miserable."
Amid rumours of her alleged misery, another source countered that Melania "is very happy with her life and supporting her husband and family".