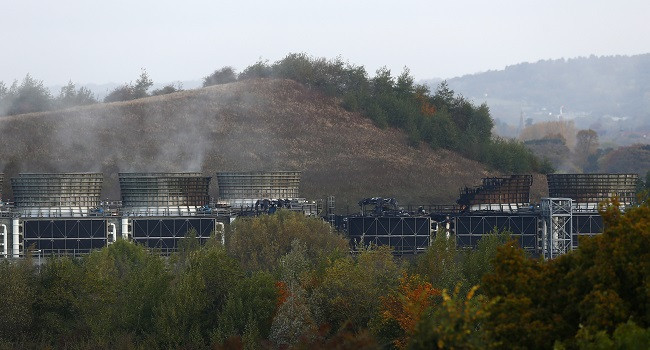 A probe has been launched into the cause of the fire at Didcot B power station in Oxfordshire.
Fire investigating officers are travelling to the power station after it erupted flames on Sunday evening (19 October), destroying two cooling towers and leaving another badly burnt.
At the height of the fire, 25 fire engines attended the blaze at the plant, situated 70 miles west of London.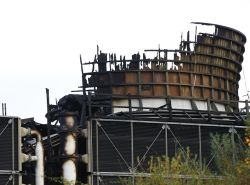 The fire was extinguished at midnight and there were no reported injuries. But residents feared "it was going to go bang".
Dave Bray, the fire service's incident commander, said: "We have extinguished the fire, although there are hot spots that are remaining within the structure.
"It is now the challenge of getting to these and dampening them down."
Resident Fallon Squires, 27, summed up the fears of those around him when he told the Telegraph: "We were all wondering if it was going to go bang."
Energy secretary Edward Davey has been reassured by National Grid there "is no risk to electricity supplies".
He said: "I will be keeping in touch with the relevant authorities throughout. My priority is to understand the cause of the fire and get the affected unit back generating electricity as soon as it's safe to do so."
Long-term damage 'significant'
But Dorian Lucas, energy analyst at Inenco, has warned the long-term impact on the UK's power supply could be "significant" if it takes time to repair the damage.
"The short term effects of this module closure at Didcot B are expected to be minimal, as total supply is currently significantly higher than demand," she said.
"However, the longer term impact could be more significant on UK power supply if the damage caused by the fire takes some time to repair. On top of existing closures this could result in a significantly tighter system leading into January, where peak demand normally occurs.
"At present nuclear capacity is currently operating at approximately 45% of total capacity, as a result of a series of unplanned outages. These plants are all scheduled to come back online before the end of November, however many are at substantial risk of revision."