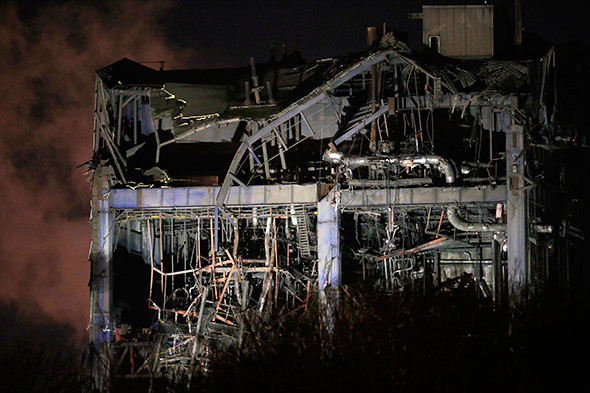 Fire crews searching the wreckage of the collapsed Didcot power station building have found 'no clear signs of life' among the rubble.
The Oxfordshire station collapsed on 23 February, killing one person and sparking a major search operation for three people who are thought to have been inside the building as it fell.
After launching a major rescue operation on Tuesday, and working through the night with sniffer dogs, Oxfordshire Assistant Chief Fire Officer Simon Furlong said it was still a rescue operation, Sky News reported. He said: "We've had some signs (of life) from the search dogs, but this is a very difficult situation with the debris field, so they are working with those crews.
"But we've had no significant signs, but that doesn't mean to say there aren't savable lives still within the building."
Although the power plant was in the process of being demolished following its decommissioning in 2013, it is not clear why the building collapsed. Local residents were advised to keep their windows closed following the collapse, while nPower said in a statement updated on Tuesday evening that it was working with emergency services on site.
The statement read: "We can confirm that shortly after 4pm this afternoon part of the Boiler House at our former Didcot A Power Station site in Oxfordshire collapsed while an external demolition contractor was working in it.
"It is with great sadness that we understand that there has been one fatality, four people have been taken to hospital and three people are currently missing and unaccounted for. Our thoughts are with the families of all those involved in this tragedy. We will provide updates as we receive them. We are working with the emergency services who are currently on site to understand the cause of this collapse."