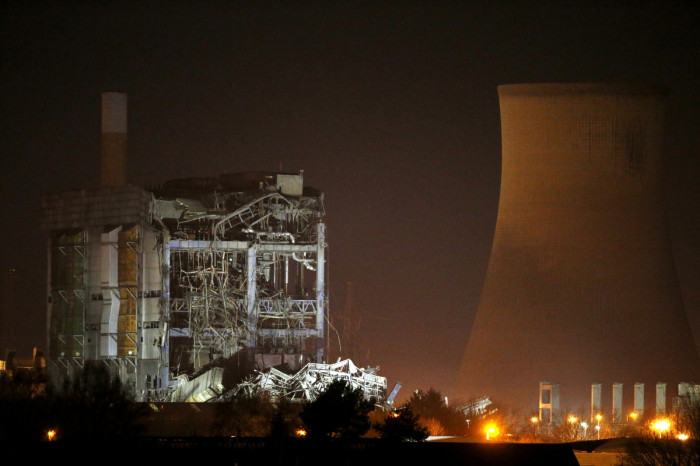 A major search operation is under way to find three people missing after a building at Didcot power station collapsed and left one person dead.

Rescuers worked through the night using sniffer dogs at the Oxfordshire site since a major incident was declared at 4pm on Tuesday (23 February).
The power station was in the process of being demolished following decommissioning when the building collapsed, though the cause is not yet clear.
A 100m cordon remains in place around the site and specialist search and rescue teams from Buckinghamshire, Hampshire and the West Midlands, are searching a rubble pile up to 30ft in height.
Fire and rescue teams rushed to the power plant, which closed in 2013 after 43 years in service, following reports of some sort of explosion. Npower, part of the parent group RWE which owns the site, said a part of the building had collapsed but there had not been an explosion.
In an updated statement at 9.40pm on 23 February, Npower said: "We can confirm that shortly after 4pm this afternoon part of the Boiler House at our former Didcot A Power Station site in Oxfordshire collapsed while an external demolition contractor was working in it. It is with great sadness that we understand that there has been one fatality, four people have been taken to hospital and 3 people are currently missing and unaccounted for.
"Our thoughts are with the families of all those involved in this tragedy. We will provide updates as we receive them. We are working with the emergency services who are currently on site to understand the cause of this collapse."
Fire crews said a cloud of dust had spread across a wide area but it was not believed to be hazardous. However local residents are being advised to keep windows closed. Chief fire officer of the Oxfordshire fire and rescue service, Dave Etheridge said: "At this time the cause is unknown and the search is continuing for three missing people, with five in hospital and one fatality confirmed."
Three cooling towers at the site had been demolished in 2014 and the final demolition of the site had been due to take place in 10 days' time. The demolition company which was carrying out work at the site, Coleman and Company, said it was "working with stakeholders to establish the facts."
Didcot A was a a combined coal and oil power plant. Didcot B, which opened in 1997, is an active natural-gas power plant and is continuing to operate at the site. Didcot B was affected by a major blaze in October 2014.