A German reporter has been jailed in Turkey on charges of producing terrorist propaganda and undermining the government.
Deniz Yucel, a foreign correspondent for German newspaper Die Welt, was formally arrested on Monday (27 February) after he was questioned by a prosecutor in Istanbul for three hours.
Yucel, a dual citizen of Turkey and Germany, had been held in police custody for almost a fortnight before appearing in court.
The journalist, 43, was detained on 14 February after he reported that a hacker had obtained information from the personal account of Berat Albayrak, Turkey's energy minister and President Erdogan's son-in-law.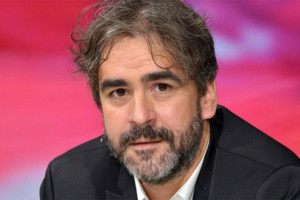 Die Welt said Yucel was the first German reporter to be held in pre-trial detention since Erdogan's AKP party came into power in 2002.
German Chancellor Angela Merkel said the move was "bitter and disappointing" and called on Turkey to release Yucel. She said the punishment was "excessively tough" considering that Yucel had cooperated with the police investigation from the start.
"The German government expects that the Turkish judiciary, in its treatment of the Yucel case, takes account of the high value of freedom of the press for every democratic society," she said. "We will continue to insist on a fair and legal treatment of Deniz Yucel and hope that he will soon regain his freedom."
German Foreign Minister Sigmar Gabriel said the decision revealed in "glaring light" the difference between the two countries when dealing with matters regarding the freedom of the press.
Yucel is one of dozens of journalists to have been arrested in Turkey since the coup attempt in July 2016 that led to a crackdown on anti-government activists. In October Turkish police arrested the editor-in-chief and searched the homes of several writers of opposition newspaper Cumhuriyet.
A spokesperson for the Committee to Protect Journalists commented: "Deniz Yücel's only 'crime' was practising journalism, which is no crime at all. We call on Turkish authorities to drop these spurious charges immediately and without condition, and to release him and the dozens of other Turkish journalists behind bars simply for doing their jobs."
Protestors waving "Free Deniz" posters took to the streets to demonstrate against Yucel's arrest. '#FreeDeniz' was projected on the Turkish embassy in Berlin and was tweeted by hundreds of social media users demanding the journalist's immediate release.
More than 300 German artists, journalists and actors have signed a petition calling for the charges to be dropped and for Turkey to respect Article 19 of the UN declaration of human rights which protects freedom of expression.