Donald Trump suggested that the media is failing to report on terrorist attacks as he addressed troops at MacDill Air Force Base in Tampa, Florida on Monday (6 February).
"Radical Islamic terrorists are determined to strike our homeland as they did on 9/11, as they did from Boston to Orlando to San Bernardino, and all across Europe. You have seen what happened in Paris and Nice. All over Europe, it's happening," Politico quoted the US president as saying.
"It's gotten to a point where it's not even being reported. And in many cases the very, very dishonest press doesn't want to report it. They have their reasons, and you understand that," he added.
Despite Trump's assertion, he offered no evidence to support the claim. His comments come amid a growing narrative of a West Wing in disarray.
In an interview on MSNBC's "Hardball" with Chris Matthews last week, Kellyanne Conway, a top adviser to Trump, attempted to justify the administration's temporary travel ban affecting seven predominantly Muslim countries following a huge backlash.
In doing so, Conway cited the "Bowling Green Massacre" and said: "Most people don't know that because it didn't get covered.
"I bet there was very little coverage, I bet it's brand new information to people that President Obama had a six-month ban on the Iraqi refugee programme after two Iraqis came here to this country, were radicalised and they were the masterminds behind the Bowling Green massacre," Conway said. "Most people don't know that because it didn't get covered," she added.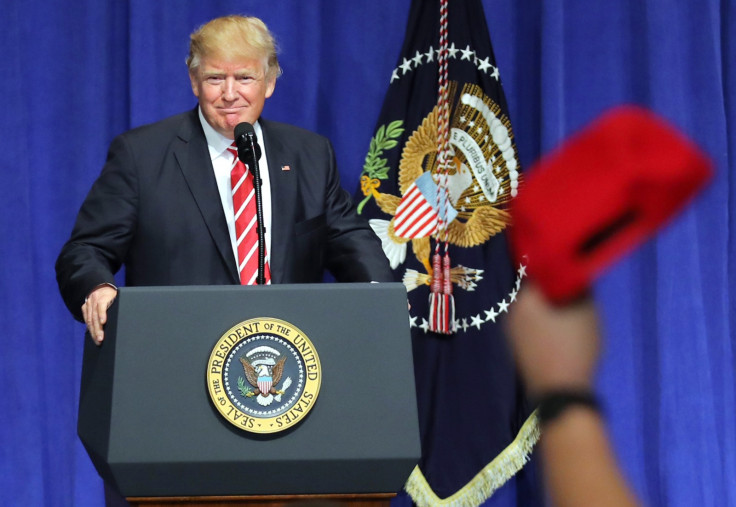 In fact, the "massacre" Conway referred to never happened. She later took to Twitter to clarify that she meant to say "Bowling Green terrorists", referring to two Iraqis from Bowling Green, Kentucky, who were arrested on federal terrorism charges. The pair were convicted of trying to send money and weapons to al-Qaeda back in Iraq.
While Conway said she misspoke, Cosmopolitan magazine reported on Monday (6 February) that "it wasn't the first time she used the words 'Bowling Green massacre' in an on-the-record conversation with a reporter".
According to Cosmopolitan, Conway also referred to the "massacre" in a telephone interview on 29 January.