Tearful reunions for Muslim families at US airports as Trump's travel ban is lifted – for now
Many travellers took advantage of a Seattle judge's ruling, effectively suspending the executive order – for now.
Travellers from the seven predominantly Muslim countries targeted by President Donald Trump's temporary travel ban are enjoying tearful reunions with loved ones at airports around the US after a federal judge swept the ban aside. Airlines around the world allowed people to board flights as usual to the United States. One lawyer waiting at New York's Kennedy Airport said visa and green-card holders from Iraq and Iran were encountering no problems as they arrived.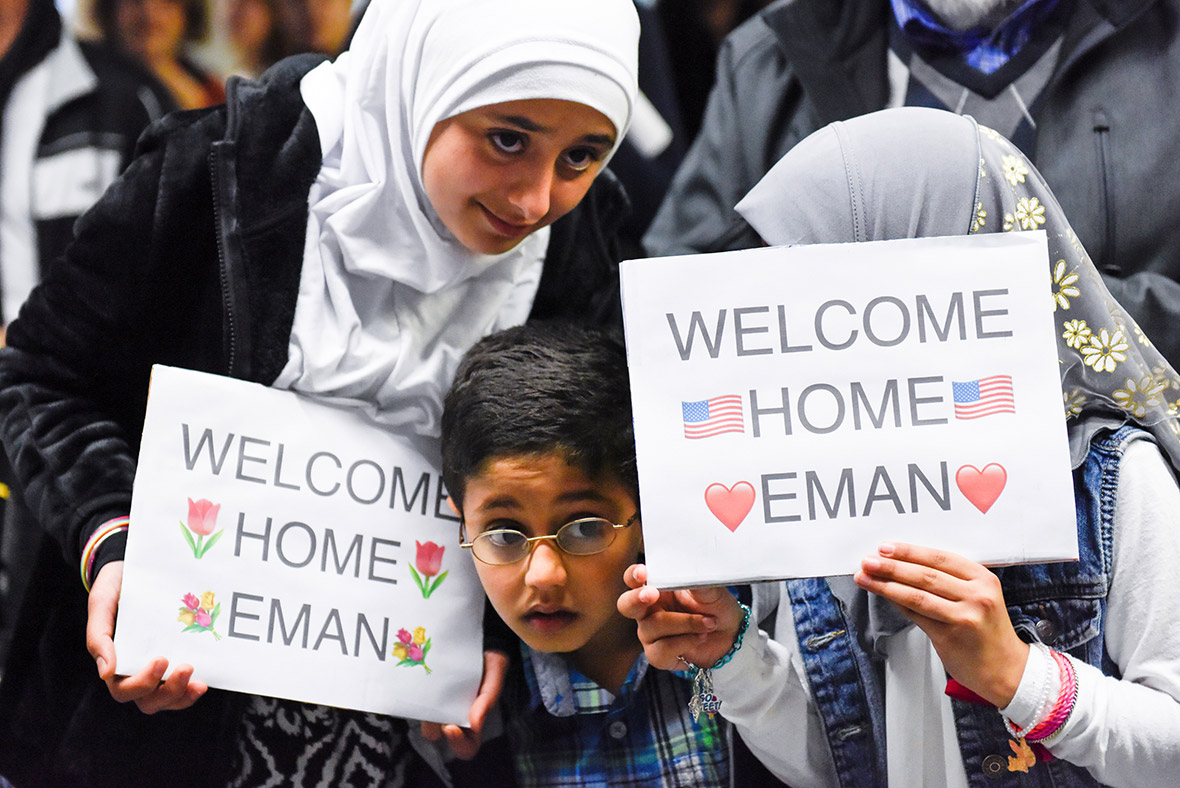 Former US development agency subcontractor Fuad Sharef, his wife and three children landed in New York on Sunday afternoon on their second attempt to reach the United States to begin a long-awaited new life. The tortuous ordeal of getting from Iraq to Nashville, Tennessee, was nearly over more than a week after it was to begin.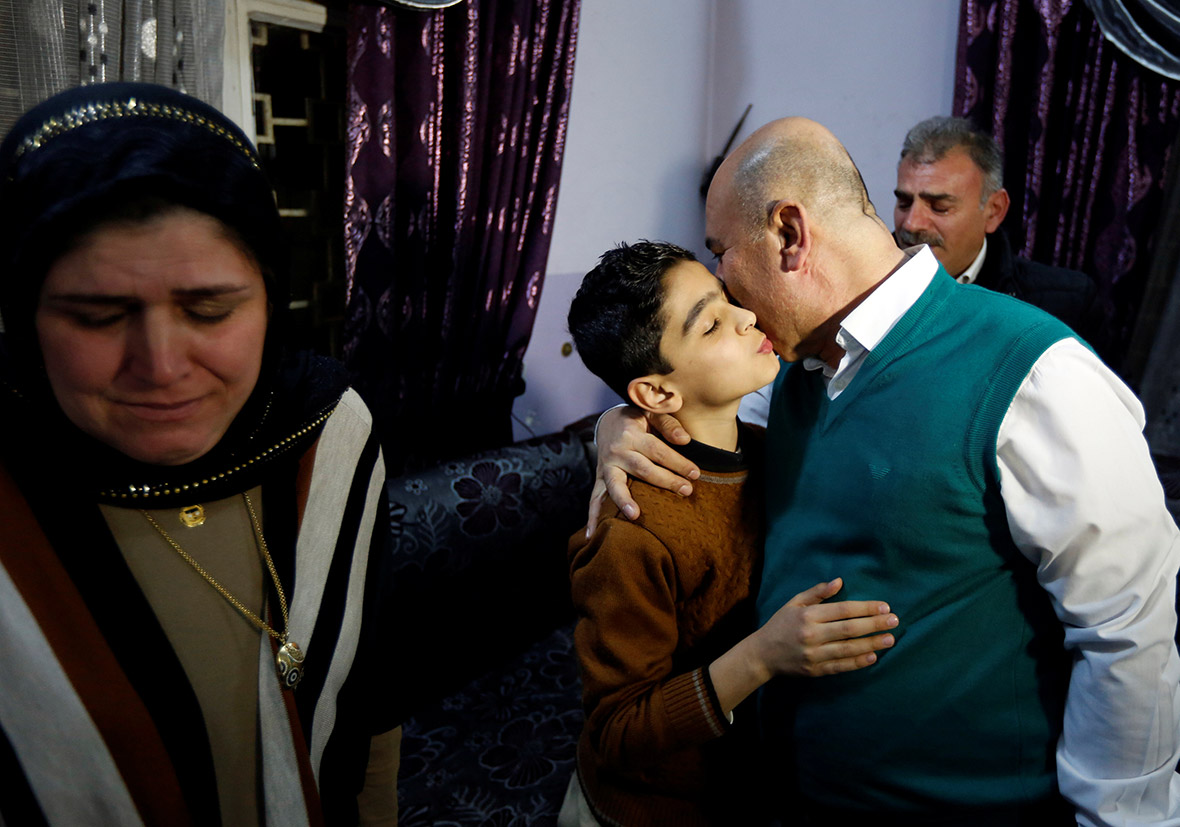 Yemeni brothers Tareq and Ammar Aziz – who were deported to Ethiopia on 28 January after arriving at Dulles International Airport where their US visas were stamped with the word "CANCELED" – were greeted by their father and attorneys after clearing customs at Dulles.
Nonprofit Legal Aid Justice Centre raised funds via a crowdfunding campaign to help provide the brothers legal council. The online campaign "Aziz v. Trump" had raised over $36,000 (£28,924) as of Monday morning. "Thank you to every single person who tried to help me to bring my kids back. I am so happy. I am so glad. This is America. America is for everybody. Thank you. Thank you. Thank you," said Aquel Aziz, an American citizen, after being reunited with his sons.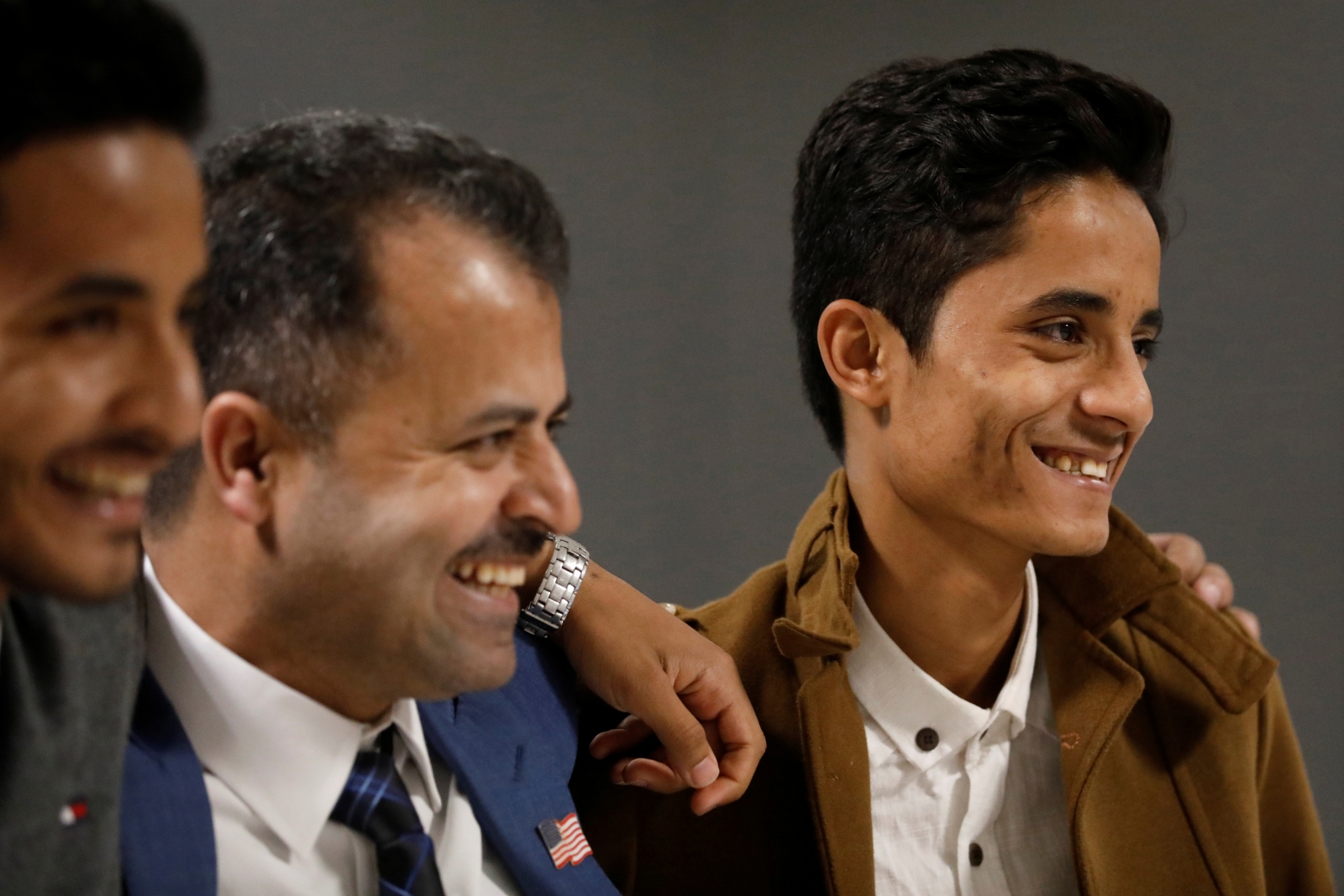 The Aziz brothers were deported to Ethiopia after their U.S. Visas were stamped with the word "CANCELED" in bold just hours after U.S. President Donald Trump issued an executive order barring citizens from seven mainly Muslim countries and temporarily banning refugees.
Iranian citizen Sara Yarjani was greeted at Los Angeles Airport by her sister bearing balloons and flowers, a week after Yarjani's student visa was revoked when she tried to enter the United States. This time the customs process was smooth and quick, Yarjani told reporters, in contrast to the 23 hours she was made to wait last week before customs officials put her on a plane back to Vienna, where she was visiting family.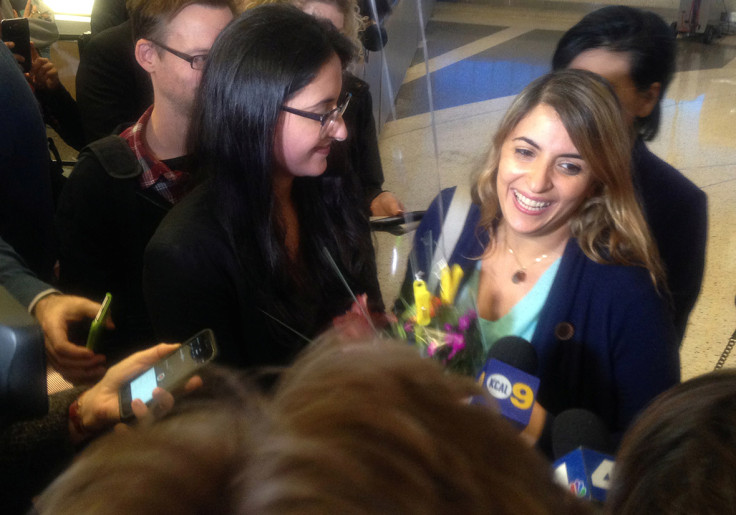 US President Donald Trump's most controversial policy faces the first of several crucial legal hurdles that could determine whether he can push through the executive order temporarily barring entry of people from seven mostly Muslim countries. The US had cancelled the visas of up to 60,000 foreigners in the week after the ban on travel from Syria, Iraq, Iran, Sudan, Somalia, Libya and Yemen took effect, according to the State Department. Trump also suspended nearly all refugee admissions for 120 days and barred Syrian refugees indefinitely.
Trump suffered a blow on Friday when a federal judge in Seattle suspended the travel ban, and hours later a federal appeals court denied the administration's request to set aside the ruling.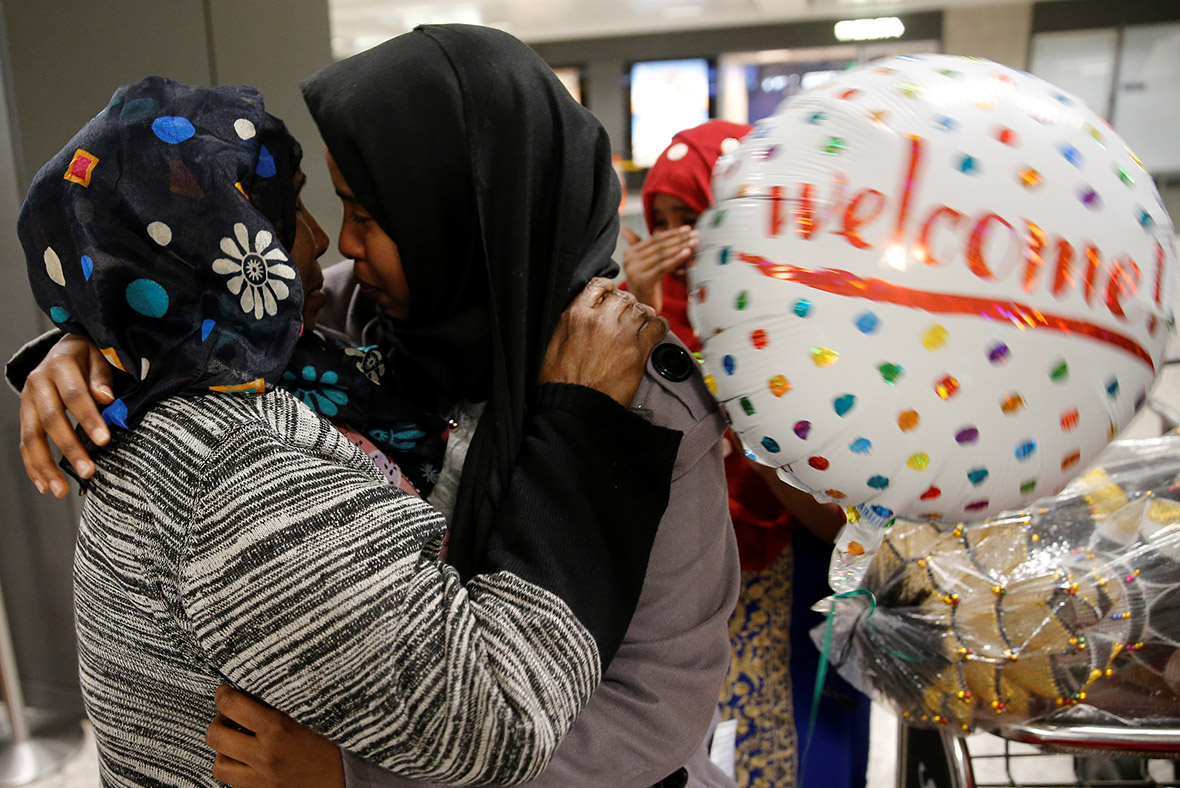 Trump has reacted with attacks on the federal judge and then the wider court system which he blames for hampering his efforts to restrict immigration. "Just cannot believe a judge would put our country in such peril," Trump tweeted on Sunday. "If something happens blame him and court system." Trump did not elaborate on what threats the country potentially faced.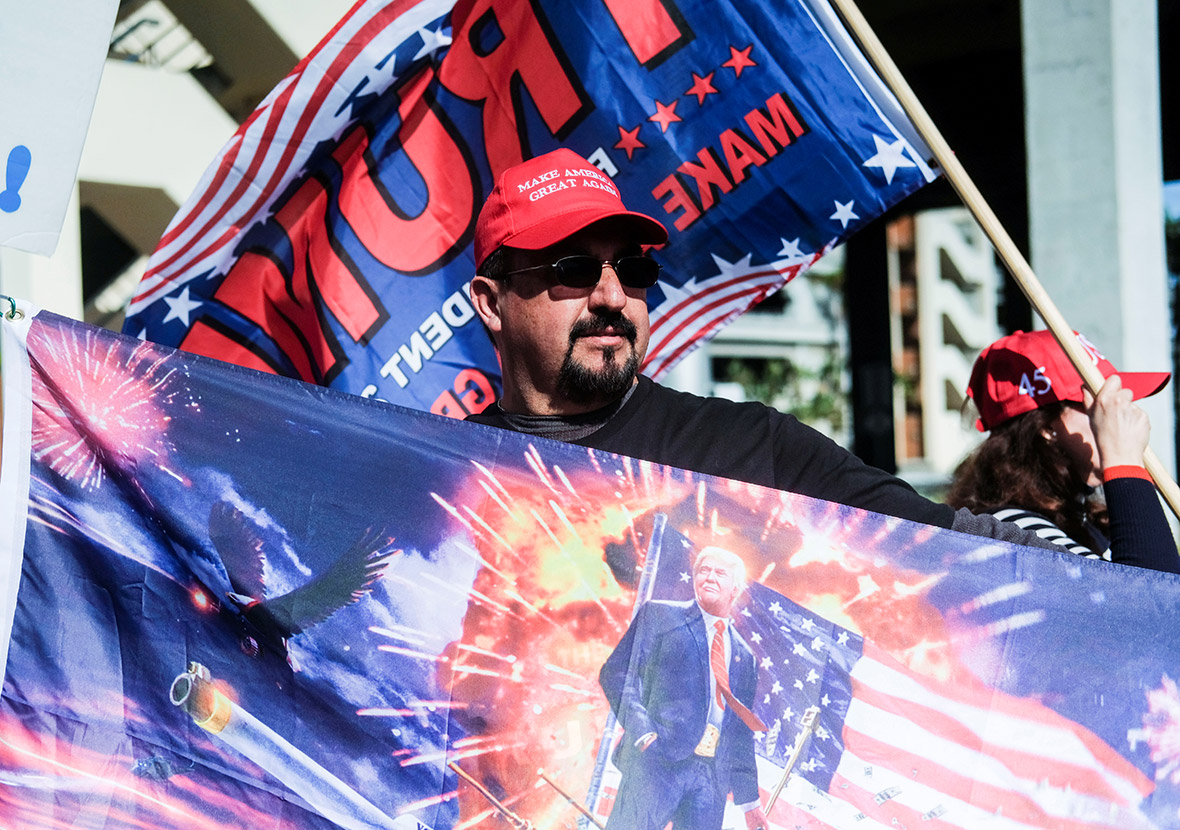 The government has until 3pm PST (2300GMT) on Monday to submit additional legal briefs to the appeals court justifying Trump's executive order.
© Copyright IBTimes 2023. All rights reserved.