Chilling footage has emerged showing a homeless man hiding in a garden, before going inside the home to murder two members of a family who befriended him. Aaron Barley, 24, pleaded guilty to stabbing Tracey Wilkinson, 50, and her 13-year-old son Pierce in Stourbridge justmonths after the family had taken him off the streets and into their home.
Barley also admitted to repeatedly stabbing father of the household Peter Wilkinson as he returned from walking the family dog. The eldest daughter, 18-year-old Lydia, was away at university at the time of the attacks.
Appearing at Birmingham Crown court, he has now been sentenced to life with a minimum of 30 years in jail for the double murder.
Following his guilty plea, CCTV footage showing Barley crawling around on the ground while hiding from the family was released by West Midlands Police.
The night before he murdered Mrs Wilkinson and her son, Barkley attempted to break into the home but stopped when it was locked. He then hid out in the garden shed until Mr Wilkinson left the morning after to walk the dog.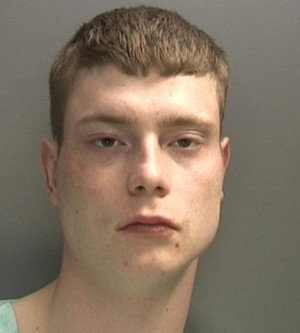 Footage shows Mr Wilkinson leaving the house with the dog, before Barley crawls along on his stomach and hands and knees to avoid detection. He then gets up and walks inside the house, where the proceeded to stab the mother and son.
When Mr Wilkinson returned from walking the dog, Barley jumped out at him and stabbed him in the chest and back. He required surgery for his severe injuries and spent six days in intensive care following the attack.
The court previously heard how the family had taken in Barley after Mrs Wilkinson spotted him sleeping rough outside a Tesco supermarket in March 2016.
As well as providing him a home, Mr Wilkinson even gave him a job as a labourer at a business he runs in Newport, south Wales in April 2016.
The family also invited Barley to spend Christmas Day with the family in 2016, paid for a mobile phone contract for him and arrangements for his accommodation when not staying at the house.
Barley even described Mrs Wilkinson as the "mother he had never had".
Following his guilty plea, Det Supt Tom Chisholm, of West Midlands Police said Barley has never revealed why he killed the family who had tried to help him.
He said: "Efforts were made to interview him but he remained largely uncooperative throughout his time in police custody.
"He still has not assisted us to gain a clear understanding of what motivated him or what the reasons were behind this horrific attack.
"There is usually a build-up or a motive or a grudge of something, but this one is just very random."