A homeless man has pleaded guilty to murdering a mother and her 13-year-old boy after they took him into their home and offered him sanctuary. Aaron Barley, 24, admitted to stabbing Tracey Wilkinson, 50, and her teenage son Pierce at their home in Stourbridge, West Midlands.
During the frenzied attack, Barley also stabbed father of the household Peter Wilkinson. He somehow survived the attack despite being stabbed six times and needing an operation and six days in intensive care to recover.
Barley previously attempted to the attempted murder of Mr Wilkinson, 47, but has now admitted to murders of the mother and child on the first day of his trial at Birmingham Crown Court.
The court previously heard how the family had taken in Barley after Mrs Wilkinson spotted him sleeping rough outside a Tesco supermarket in March 2016.
As well as providing him a home, Mr Wilkinson even gave him a job as a labourer at a business he runs in Newport, south Wales in April 2016.
Barely was also invited to spend Christmas Day with the family in 2016. The Wilkinsons also made arrangements for him to be accommodated in lodgings when not at their home and paid for a mobile phone contract for him
Barley even described Mrs Wilkinson as the "mother he had never had".
However, Barley soon started acting more erratically, including skipping work and getting evicted from his lodging. As his behaviour worsened, Mr Wilkinson cancelled the mobile phone contract.
On 30 March 2017, Mr Wilkinson took the family dog out for a walk. He asked Pierce to join him, but the teenager decided to stay put, saying he would go with him the next day.
Unbeknown to the family, Barley had tried to break into the family home the night before but stopped after discovering it was locked. He then hid in the garden shed until Mr Wilkinson left later that morning before going inside to murder the other two family members.
When the 47-year-old returned from walking the dog, Barley jumped out at him and stabbed him in the chest and back.
Mrs Wilkinson was pronounced dead at the scene, whereas Pierce was taken to hospital before he later died of his injuries.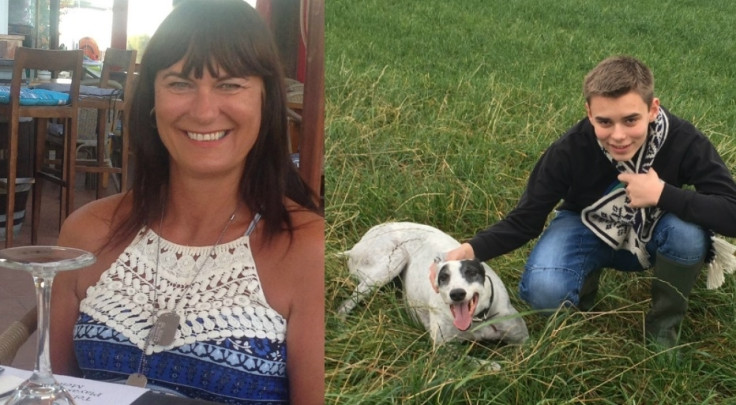 Mr Wilkinson said he believed Barley took out his anger on the fact his life had gone badly out on the family.
Paying tribute to his wife, he said: "Tracey was a beautiful woman inside and out, she was so elegant and stylish and loved her family. She was also very compassionate which led to her caring for others. When she found Aaron sleeping rough outside a supermarket she wanted to help.
"We gave Aaron help, we invited him into our home for meals, found him accommodation and a job and he saw Tracey as a mother-figure. Until this happened, I never considered him dangerous and any threat.
"He shared Christmas Day with us and sent Tracey a card 'to the mother I never had.'"
Following his guilty plea, detective chief inspector Edward Foster, West Midlands Police's homicide unit, said: "Barley planned a truly shocking and merciless attack that day. People who knew him described him as 'a compulsive liar and manipulator'.
"CCTV at the home address and in the car showed the events of the previous night and that morning which led to the untimely and devastating deaths of Tracey and Pierce, leaving no doubt about Barley's guilt.
"This was a murder of the utmost cruelty and sadness. The Wilkinsons had opened their home to Barley and tried to help him, but he repaid them in such an incomprehensible way.