Horrifying footage showing the moment a Polish man was rescued by police after being forced to work up to 20 hours a day making greeting cards have been released. The film, released by Nottinghamshire Police, shows officers climbing a ladder to find a man using a hi-vis jacket as a blanket in a squalid attic space in Hyson Green.
The body-cam footage was released after Edward Zielinski, 42, was jailed after admitting two modern slavery offences in connection with the vulnerable victims, who he forced into work and threatened with violence.
Zielinski was found to have locked his victims in the loft during the night, forcing them to urinate in plastic bottles so they would not wake him and his wife.
The defendant's first victim was sent to work for him by Zielinski's cousin to pay off debts of around £800, which he accumulated through getting a new passport and other bills.
When he arrived at Radford, Zielinski forced him to work as long as 20 hours at a time from 8am to 4am making greetings cards, with only limited breaks.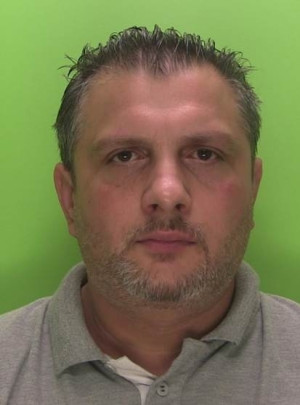 The man was also threatened with violence and beaten if Zielinski didn't think he was working hard enough.
Despite earning around £300 a week via making the greeting cards, the victim was only paid in cigarettes, alcohol, the occasional piece of clothing from a car boot sale and £10 in cash, with Zielinski having compete control of his bank account.
The victim finally escaped in January 2016 after he was beaten by Zielinski with a wooden plank.
Following an investigation, officers found a second of Zielinski's victims in the attic of his new address in Hyson Green.
The second man had moved to Nottingham in 2015 and heard through a friend that Zielinski had a spare room. But Zielinski took advantage of him, forcing him to work for as little as £70 a week and having no control to his own finances.
Zielinski has now been sentenced to 40 months in jail after pleading guilty to two counts of human trafficking. Both victims are now with the Salvation Army charity receiving support.
Detective Sergeant Mike Ebbins, who led the investigation, said: "The first victim was made to work up to 20 hours a day from 8am to 4am with only limited breaks earning only £10 a week for his efforts.
"The other victim was the cash cow for Zielinski so was allowed access to a bedroom and avoided being assaulted.
"But in both cases Zielinski exploited them for his own financial interests.
"He saw an opportunity to make money out of vulnerable Polish men. They were incredibly vulnerable people – unemployed, alcohol dependent, and couldn't speak a word of English – so they were seen as perfect victims.
"A lot of hard work has been put in by the human trafficking team and it is great news that he has pleaded guilty because it means his victims haven't had to face him at trial.
"The victims should be applauded for coming forward. Hopefully it will give other victims the confidence in Nottinghamshire Police to get a result for them."
Anyone who would like to report suspicions about modern slavery should call the Modern Slavery Helpline on 08000 121 700 or call Nottinghamshire Police on 101.