Genre-defining albums are becoming harder and harder to discover in today's creatively over populated generation. It's not that there aren't any, it's just that it's proving more difficult to find them amongst the hundreds of new projects released weekly. In the last 10 years, albums by Kendrick Lamar, Lady Gaga, Kings of Leon and Kanye West are just a few examples that immediately spring to mind when talking about the best of the best.
Going back even further, of course there's albums by Michael Jackson, David Bowie, The Clash, Nirvana, The Smiths, Run DMC, Radiohead, Miles Davis, and so many more that shaped and moulded the various generations. Another album that can be added to this list is Dizzee Rascal's Boy In Da Corner.
In 2003 Dizzee Rascal – real name Dylan Mills – helped kickstart a new wave of music that 13 years later would become the most popular genre of music amongst British teens and beyond. Known by many names during its infancy, the genre would later go on to be known as grime.
Having struggled with finding an identity for quite some time, Britain's urban youth in the early 2000s were predominantly borrowing its fair share of inspiration from U.S. hip-hop culture and the bubbling UK garage scene, but once Dizzee released Boy In Da Corner everything changed.
Boy In Da Corner was a legacy moment for Dizzee. Like Eric B & Rakim's Paid In Full or Wu-Tang Clan's Enter The Wu-Tang (36 Chambers), it was a genre-defining moment during the golden era of its own genre. Sure, Wiley is regarded as the "Godfather of grime", and he's the one who championed the genre before anyone else and pushed it forward behind the scenes until he garnered mainstream notoriety a year after Dizzee with the classic Wot Do U Call It?, but he will be the first to admit that Dizzee is the one who blew the doors off of the whole operation.
Once the album's first single, I Luv U, hit the airwaves and was catapulted into homes via Channel U and other music television stations, that was it, Dizzee had made it. The thumping bass kicks, aggressive claps, and eerie synths that he created as the album's lead producer laid the foundation for him to rap about destructive relationships in a way that people had never heard before.
It was polarising to say the least. You either loved it or hated it. Even revered music journalist Hattie Collins admits to not liking it when she first heard it, but that soon changed after a few more spins. It was off the wall in a romantic sort of way. You couldn't help but fall in love with it seeing the potential it had, seeing where it could go.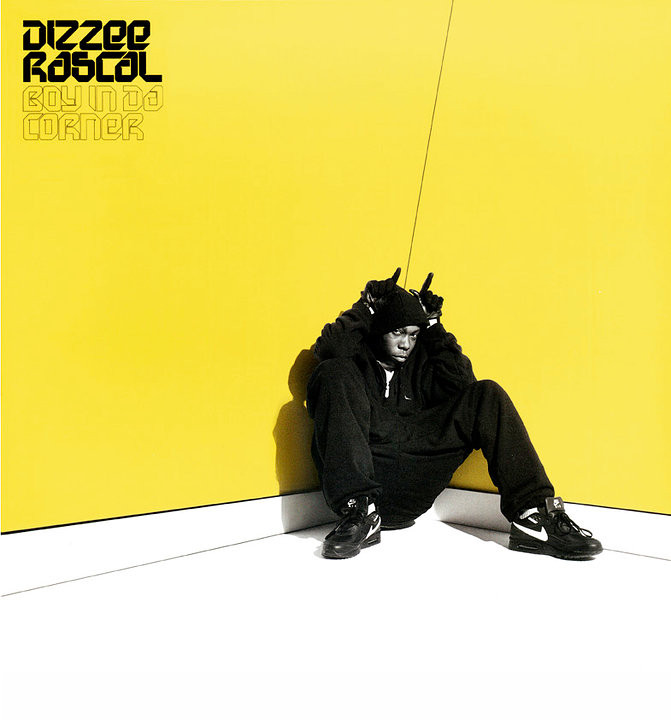 As an entire body of work it was unrelenting. The way it opened with the introspective Sittin' Here was both haunting and inviting. Looking at his surroundings and describing them over an echoing instrumental that felt like London in a cave, listeners were given a guided tour of the endz. Then there's the album's follow up singles.
They were big, if not bigger than the earth shattering I Luv U. While Fix Up, Look Sharp, the only track on the album to use a sample – Billy Squire's The Big Beat –proved to be an unconventional floorfiller that rang out in every club in the country – it was Jus' A Rascal that solidified the album as one to remember.
The rapid fire guitar lick, airy electro synths and gritty bass drops sounded like something Twista or Tech N9ne might tackle with their signature double time flow, but instead Dizzee went in all guns blazing, switching flows and playing with his vocals. At this point you can't imagine anyone else but Dizzee ever spitting over the beat and sounding comfortable.
Even the slang used felt fresh. While it had been used on the streets of London for years this was the first time the general public were hearing it. It was as if the wizard's curtain had been lifted on a secret world that only those in London – specifically Hackney, Bow and Stratford – were privy to. Even titling some of tracks on the album using words from the newly discovered vocabulary, Jezebel and Live O educated listeners on new ways to say things, even if they weren't always pleasant.
During Tony Blair's reign as Britain's Prime Minister – someone Dizzee refers to as Anthony Blair on Hold Ya Mouf – Dizzee's views and the language he used, and Boy In Da Corner as a complete body of work, provided a voice for the youth and inspired the birth of a new identity, one that wasn't afraid to embrace its council estate upbringing, or its weekly trips to the dole office.
These factors inspired an onslaught of albums following the same type of subject matters – even if they weren't necessarily grime. Albums like Skinnyman's Council Estate of Mind and Kano's Home Sweet Home had eyes and ears on them that previously wouldn't have been if it wasn't for Boy In Da Corner.
The funny thing about the album is that back in 2003 it was way ahead of its time. It's futuristic junkyard sound felt cinematic in a sci-fi sort of way. While the album was unapologetically British it felt like it was from another planet. In 2016 it still feels that way. The rich synths and loud electronic percussion feel organic in a way that today's grime or trap music struggles to achieve.
Another thing to note is Boy In Da Corner won the Mercury Music Prize in 2003. The significance of this win is that Dizzee became the first rapper to win the prestigious award. Beating out The Darkness and Coldplay, amongst many others, not only did it put grime on a platform where it was able to then be recognised by mainstream media, it also introduced urban youth to an award they might previously have not known about.
And while Dizzee's plan to perform Boy In Da Corner in its entirety in 2016 wasn't purposely done to coincide with Skepta being the next grime artist to follow in his footsteps winning this year's Mercury Music Prize 13 years after he did, it was a welcomed coincidence.
Boy In Da Corner was the first of its kind. An album that moulded a culture and birthed a genre, it's unapologetically British and is something the UK can be proud of. The way in which Dizzee pronounced words with a harsh twang stung the ears of its listener and forced them not to forget what they heard in a hurry.
It's unforgettable, and in all honesty it's an unconventional gem. And it's not just the music that made an impression, just look at the artwork. A bright yellow room as loud and brash as the music contained inside it, the cover shows Dizzee literally sat in the corner mimicking devil horns symbolising him being a rascal.
It's one of those covers that you can show to any music fan and they'll instantly be able to tell you the name of the album. He is expected to perform the entire record at a special one-off show in London this Saturday (22 October).
Boy In Da The Corner is an undeniable timeless classic. You get me?
---
Will Lavin is a hip-hop music and lifestyle Specialist of 10 years. A 2015 IMC Award winner, he's written for publications such as VIBE, XXL, Complex and Blues & Soul. He's worked with artists such as Chaka Khan, Timbaland, will.i.am. and Chris Brown. He also runs illwill.co.uk.
---