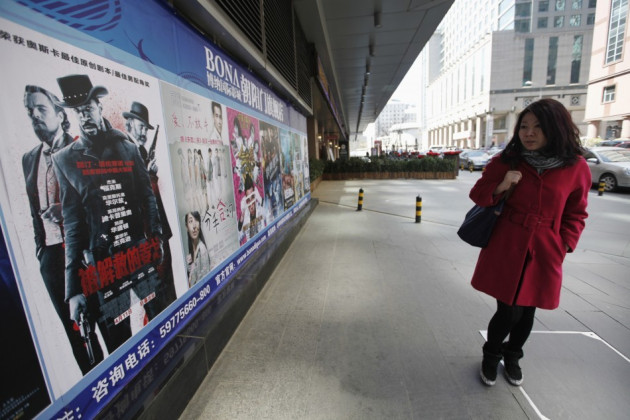 Oscar-winning film Django Unchained returned to Chinese cinemas on Sunday 12 May, more than a month after the movie was withdrawn for "technical reasons".
The movie is director Quentin Tarantino's first commercial release in China and is not expected to be a big winner in terms of ticket sales as it faces fierce competition from other blockbusters.
A statement posted on mtime.com said Django Unchained is expected to rake in 60 million Yuan (£6.3m) at Chinese cinemas.
An official with Saga Cinema in Beijing said on Saturday that tickets for the first screenings of Django Unchained were still available.
Although technical reasons were cited for pulling the cinema release in China, it's been suggested that Beijing's censors did not realise that scenes of nudity were more prominent as they had originally watched the slave-revenge drama on DVD.
On the big screen, however, actor Jamie Foxx's genitalia are revealed in all their glory.
"The penis was barely visible on the small screen, but it was more difficult to miss when the film was shown on the huge cinema screen," a source told The Times.
Django - played by Foxx - appears naked while being hung upside down and tortured.
The movie was reportedly turned off in Chinese cinemas only a few minutes after the lights had dimmed during the first day of screenings.
The new version - with nudity removed - will screen in China from Sunday. China's State Administration for Radio, Film and Television (SARFT) had already insisted on some cuts such as "tuning the blood to a darker colour, or lowering the height of the splatter of blood".
Theatre managers said they could not remember another time SARFT pulled a movie with the premiere in progress, especially as Django Unchained had been extensively promoted across China, which is the second largest movie audience in the world.
Django Unchained follows the fortunes of a slave who teams up with a German-born bounty hunter to track down the South's most wanted criminals. Its stars include Jamie Foxx, Christoph Waltz, Leonardo DiCaprio, Samuel L Jackson and Kerry Washington.
The film earned five Oscar nominations, winning the Academy Awards for Best Supporting Actor (Waltz) and Best Original Screenplay.