Vermont Senator Bernie Sanders took the podium at the Democratic National Convention on Monday 25 July, amid an outpouring of prolonged cheers and tears as he attempted to begin his Day One closing speech.
But anyone who expected he would express bitterness over his defeat or would withhold support from Clinton was disappointed, as Sanders seemingly focused on the issues of unity.
While Sanders said "no one is more disappointed than I am" about the outcome of the nomination, and that "much more needs to be done" even after eight years of a Democratic administration, he proclaimed that "Hillary Clinton will make an outstanding president."
With that he helped ease the Democratic rift at a convention racked by acrimony between the Sanders and Clinton camps.
Before Sanders took the podium, chants of "Bernie" and boos and jeers had interrupted several speeches, leading comedian Sarah Silverman to tell backers: "You're being ridiculous." Sanders himself was jeered earlier in the day when he urged his backers to support Clinton.
Sanders was moved to a more prominent time slot closing out the session to placate his backers, the New York Times reported. And he tweeted to supporters as a "personal courtesy to me" to not stage protests on his behalf on the floor. In another nod to the party's left wing, Senator Elizabeth Warren delivered the keynote address.

But if GOP presidential candidate Donald Trump held out hope that Sanders' supporters would join his fight — as he had expressed in his nomination speech — Sanders was determined that would never be. (Though Trump kept trying to woo Sanders supporters in a tweet.) Sanders blasted Trump's "bombast, fear-mongering, name-calling and divisiveness."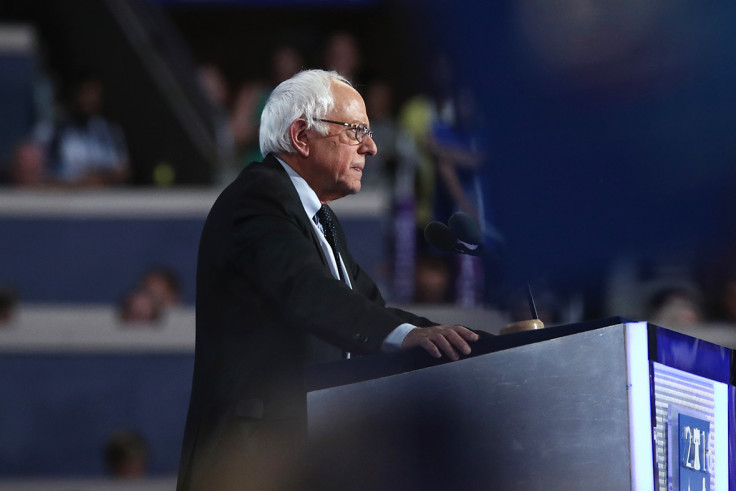 We need "leadership which brings our people together and makes us stronger – not leadership which insults Latinos, Muslims, women, African-Americans and veterans," said Sanders, who called "diversity our greatest strength."
He lashed Trump as a candidate who would give "yuge tax breaks" — mocking Trump's Queens accent — "to billionaires" while allowing states to further slash workers' minimum wage, already at "starvation" pay. He attacked Trump for "rejecting science" by calling climate change a "hoax."
He also warned delegates of the disaster of giving Trump an opportunity as president to name Supreme Court justices, and "what that would mean to civil liberties and equal rights."
Sanders reminded delegates of the dire financial straits the nation was in after eight years of a Republican administration.
"The Republicans want us to forget that as a result of the greed, recklessness and illegal behavior on Wall Street, our economy was in the worst economic downturn since the Great Depression. We were running up a record-breaking deficit of $1.4 trillion and the world's financial system was on the verge of collapse," said Sanders, who thanked President Obama for "pulling us out of that terrible recession." But he said "much more needs to be done."
Sanders didn't shut the door on his political fight, and said he and his supporters had managed to launch a "revolution" that will go on.
"Election days come and go," he said. "But the struggle of the people to create a government which represents all of us and not just the 1% — a government based on the principles of economic, social, racial and environmental justice — that struggle continues. And I look forward to being part of that struggle with you."