Things have picked up a tad during this week's second episode of Doctor Thorne. We've learnt that Lady Arabella's contentious nagging is more grating than a One Direction song played backwards 30 times in a row, new boy Louis really wants us to know that he likes alcohol (cool story bro) and Mary Thorne is the official babe of Barsetshire.
The major themes of Anthony Trollope's original novel of social pain and superciliousness due to illegitimacy, as well as the nefarious consequences of overdoing the booze finally trickle through Julian Fellowes' onscreen three-part television adaptation. But that's amidst the GCSE Drama-style overacting and mega-enunciation of wide-mouthed words to ease the general public's dim understanding of Victorian language. We geddit, alright.
Unlike last week's episode that rocked the boat less than a gnat on a cruise liner amongst viewers' opinions, this week most certainly made up for the lacklustre start with tales of love, anger, addiction, marriage proposals and even death. More drama than an episode of the Sopranos, we know.
Ian McShane stole the show with his convincing and charismatic performance of Sir Roger Scatcherd, a raging alcoholic who had the audacity to put himself up for election, but was then struck down (due to his love of the bottle). His wrong'un of a son Louis (Edward Franklin) turns up (who also loves the bottle) and is after his money, status and a slice of Mary Thorne (Stefanie Martini) when his old man kicks the bucket. Besides aggressively swigging from his hip flask and proposing marriage to Ms Thorne with even more belligerence, Louis doesn't bring too much to the table. He didn't even organise his dad's funeral. Pfft.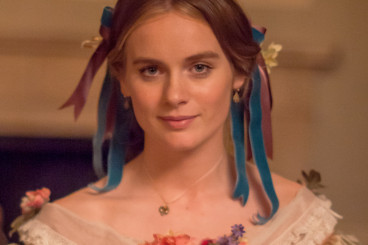 The pivotal moment of the episode was Frank Gresham's (Harry Richardson) pretty cute proposal to Mary on an immaculately cut green field, but since he asks for everyone's opinions and thoughts on the matter, he's an unlikely hero in the sorta-love story. In fact, his whimpering character reminds us that there's no real protagonist of the plot, mirroring Fellowes' Downton Abbey. Not even Doctor Thorne is allowed to be the lead, for Pete's sake.
Unsurprisingly, Frank's undying love for penniless Mary has rubbed his money-grabbing parsimonious mother, Lady Gresham (Rebecca Front), up the wrong way. Lo and behold, she'll have to enrol herself in the local job centre if her handsome boy doesn't marry a walking inheritance fund. She's peeved on learning that Frank still has the hots for Mary, and weeps and wails before throwing her toys out of the pram. "If you wish to see me happy EVER again, marry money!" she yapped. Please, put a lid on it Lady Ara-yeller.
On a general note, we're pretty excited for what's going to unravel in the third and final episode of the drama. It might be a little flat compared to an episode of Game Of Thrones, but it's one for the hopeless romantics that love an excuse to weep over a glass of rosé on Sunday night.
Watch the third episode of Doctor Thorne on Sunday March 20th at 9pm.