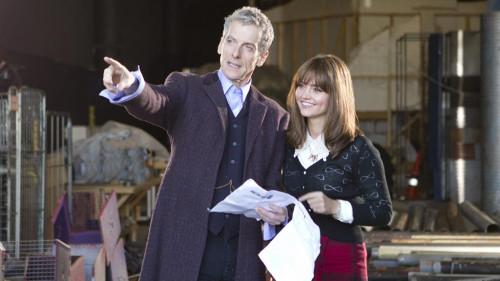 The BBC has released the first picture of Peter Capaldi on set as Series 8 of Doctor Who starts filming in Cardiff.
He is pictured alongside Jenna Coleman, who plays the Doctor's companion Clara Oswald.
Capaldi said: "New job, first day, slightly nervous. Just like the Doctor, I'm emerging from the Tardis into a whole other world."
Many hoping for a glimpse of the new Doctor's costume will have to wait a little longer as Capaldi is pictured wearing the clothes of his predecessor, Matt Smith's 11th incarnation of the iconic sci-fi character.
10.2 million UK viewers watched Matt Smith's Doctor regenerate into Capaldi at the end of the recent Christmas Day special.
Show-runner Steven Moffat has confirmed that the show's eighth series – expected to air in August - won't be split in two like the seventh.
"First the eyebrows. Then, at Christmas, the face. Coming soon, the whole Doctor. In the Cardiff studios, the Capaldi era begins," said Moffat.
The first episode of the new series has been written by Moffat and will be directed by Ben Wheatley – who made a name for himself on the big screen with critically-adored Brit flicks Kill List and Sightseers.