A dodo bone and an elephant bird egg are among the objects leading a natural history sale at Christie's auctioneers in April.
The fragment of a dodo's femur is believed to be the first to come to auction since 1934 and has been estimated to fetch up to £15,000.
It forms part of the Travel, Science and Natural History Sale at the South Kensington sale rooms on 24 April.
Dodos were first recoded by Dutch sailors at the end of the 16<sup>th century on the island of Mauritius. They had no fear of people and the species was quickly hunted to extinction - less than 100 years after being discovered.
The bone to be auctioned was found in 1865 on the island by natural history enthusiast George Clark.
James Hyslop of Christie's South Kensington said: "As an icon of extinction, the dodo is second to none. From its appearance in Alice in Wonderland to the expression 'dead as dodo', the bird has cemented its place in our cultural heritage.
"This exciting discovery is one of the few pieces of dodo material in private hands and it is a privilege and ha umbling experience to have been entrusted with the bone. It is a reminder of the effect humans have on the natural world and presents a rare opportunity to engage with this now lost and most enigmatic bird."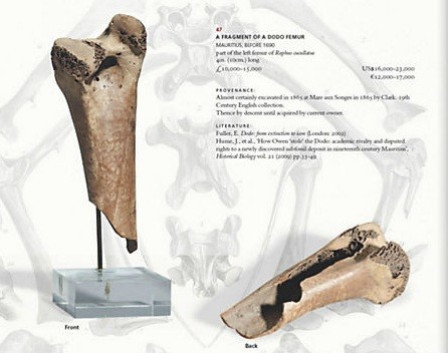 Also on sale will be an elephant bird egg, which is expected to achieve £30,000. The egg, which is more 100 times the size of a standard chicken egg, originated in Madagascar.
The fossilised egg comes from the largest bird ever to have lived. It looked like a big ostrich and stood 10ft tall.
Other curiosities at auction are a megalodon tooth, which is estimated to reach £1,000, 10 specimens of petrified wood, which could reach £1,200, and a lizards tail trapped in amber, which has an upper estimate of £10,000.