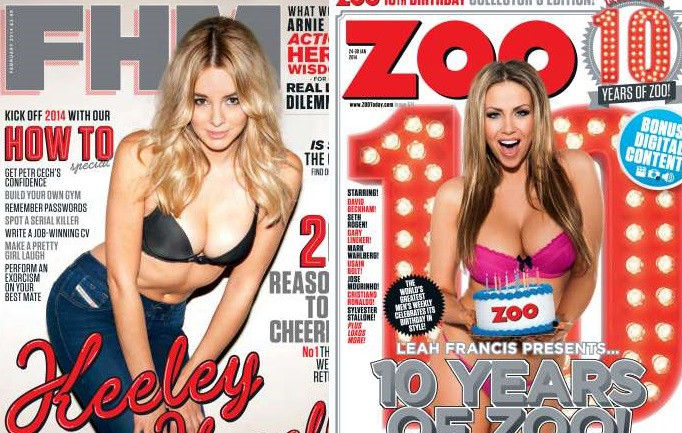 Bauer Media's announcement that it will stop publishing both FHM and Zoo by the end of this year has inevitably led to bold claims regarding what this tells us about "decline of lad culture" in the contemporary age. The closures are either a brilliant victory for feminism or a tragic example of political correctness gone mad, depending on who you ask.
Grasping on to topicality in the wake of recent terror attacks, a handful of imaginative souls have suggested that the move indicates Isis has managed to implement Sharia law in the UK, right under our unsuspecting noses.
Bauer Media's official reason for axing the titles is far more straightforward: barely anyone actually reads them these days. B­-list celebrities in their bikinis are seemingly not enough to boost circulation figures that have plummeted since the lads' mag heyday of the late 90s.
FHM's monthly readership was just 67,000 in the first half of 2015, less than 10% of what it was at its peak. Zoo fared even worse, selling just over 24,000 copies. Numbers that low make profitability impossible. With both Nuts and Loaded having already folded in recent years, it seemed only a matter of time before similar magazines joined them on the scrapheap.
The temptation to attribute the collapse of lads' mags to some kind of progressive cultural shift is understandable. Many feminists have argued that the generous sprinkling of busty, semi­-naked babes in such publications contributes to the objectification of women in wider society. What's more, at times both Zoo and FHM have been guilty of printing the sort of rape jokes and casual misogyny that would put their editors at risk of serious backlash, possibly even a Dapper Laughs-style turtleneck-­clad Newsnight appearance, if they were circulated on social media today.
Is lad culture dead?
Maybe, it's suggested, heterosexual males aged 18 to 35 can no longer be lured with promises of "Britain's best bums", "Diana Vickers in her knickers" or the "funniest ways to dump your missus". Young people nowadays are all into stuff like intersectional feminism, Tumblr and calling out micro-aggressions instead. Magazines such as FHM and Zoo are relics of a less enlightened age, or possibly a more liberal one, depending on where you stand.
Either way, it's no wonder they're dying out. Who is going to buy lads' mags if there are no longer any lads?
FHM, the more thoughtful of the two discontinued publications, actually pondered this question in its own pages. The December 2013 edition of the magazine featured an article titled "Is the lad dead?", trumpeted on its front cover. Earlier that year, feminist groups UK Feminista and Object had organised a campaign urging high street retailers to stop stocking lads' mags. The Co-operative complied and pulled the titles from all of its stores, causing sales of Nuts to plummet by almost a third. Campaigners celebrated this decline as a great success.
Since their respective publications closed, the former editors of both Loaded and Nuts have found an alternative vocation ranting about what they perceive as the authoritarian excesses of modern feminism in the Telegraph's questionably titled 'Thinking Man' section. Their approach generally involves lots of hyperbole, some kind of slippery slope argument and an almost wilful inability to understand where anyone who disagrees with them is coming from. However, there's at least one issue on which they're decisively right and their feminist opponents are wrong: the decline of lads' magazines does not indicate the decline of lads.
The Lad Bible
As much as some might wish it was so, Zoo and FHM are not casualties of a growing culture of gender sensitivity. Instead, they've collapsed under the same struggle that has faced many print publications in recent years: they couldn't compete with the internet. A whole host of websites have sprung up offering exactly the same sort of humorous, easy-to-read and, sometimes, politically questionable content the magazines were known for. The most successful example, The Lad Bible, regularly attracts more than 20 million visitors each month. That's almost 30 times the number of people who bought FHM at its zenith. If we're going to take media consumption as an indicator, lad culture is arguably actually on the rise.
Perhaps even more pertinently, for young men with access to a limitless array of pornography at the touch of a smartphone button, the promise of quasi-topless soap stars and tastefully nude glamour models is no longer much of a draw. Given the deregulation, exploitation and even coercion in some parts of the porn industry, it doesn't seem much of a feminist victory if women are losing well-paid modelling work because most of their former audience are now more interested in streaming hardcore footage.
Whatever the faults of FHM and Zoo, they are at least reigned in by legal limitations and publishing standards. In comparison, online media is something of a wild west. Maybe the same people currently celebrating the death of lads' mags will soon be wishing for their return.