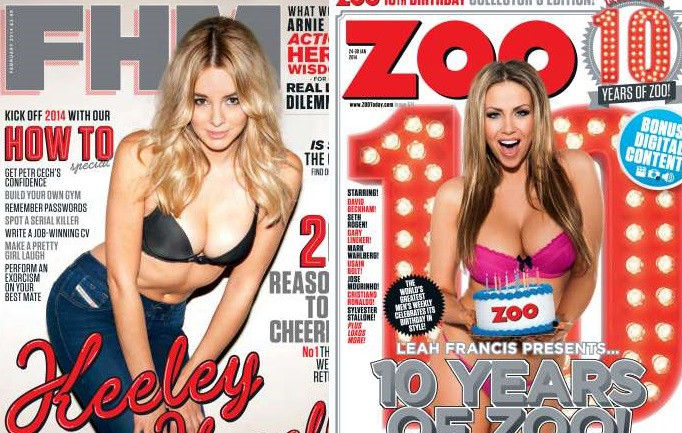 FHM and Zoo, two of the last remaining 'lads mags', have announced they are to suspend publication following a decrease in sales. Bauer Media, who own both magazines, confirmed they will no longer be publishing FHM – formerly For Him Magazine – after 30 years in circulation.
Weekly magazine Zoo, a former rival to Nuts magazine, which also closed last year, is also set to close. The publisher said the decision was made as young men's media habits have "continually moved towards mobile and social".
Earlier this year, circulation figures for FHM dipped to 75,000, compared to more than 700,000 towards the start of the century.
FHM is perhaps best known for its world famous '100 Sexiest Women in the World' poll conducted every year. The first ever winner was supermodel Claudia Schiffer in 1995, with subsequent claimants to the crown including Britney Spears, Mila Kunis, Halle Berry and current title-holder Michelle Keegan.
An FHM spokesperson said: "It's been an absolute joy producing the magazine over the years. Thank you for all your support, we will keep you updated with developments over the coming weeks."
Just like its rival Nuts, Zoo magazine has failed to compete with the rise on free online material. However, it recently was one of only two print magazines aimed at men that saw a rise in circulation year on year, climbing 3.2% to 30,464. At its peak in 2006, the magazine was selling more than 260,000 copies a week.
A message on Zoo's website said: "Gents, we have some news. It is with regret we have to inform you of the intention to suspend publication of Zoo.
"We've loved every minute of the near 12 years and 600-plus issues we've shared with you and would like to thank each and every one of you who've been there with us along the way. We'll keep you updated with any other news over the coming weeks and we hope you enjoy our last few issues. Trust us, they'll be good'uns. Thanks once again."
Publisher Gareth Cherriman commented: "I greatly appreciate [editor-in-chief] Damien McSorley's leadership and the dedication and effort from both teams. I would like to thank our advertisers and retailers who have supported the brands and I'm sure that everyone who has worked on FHM and Zoo over the years will be sorry to hear this news."
The magazines are the latest casualties in the world of print magazines. In March, FHM's rival Loaded ceased publishing 21 years and a failed rebrand, with NME also moving to a free publication after 63 years following a dip in sales.