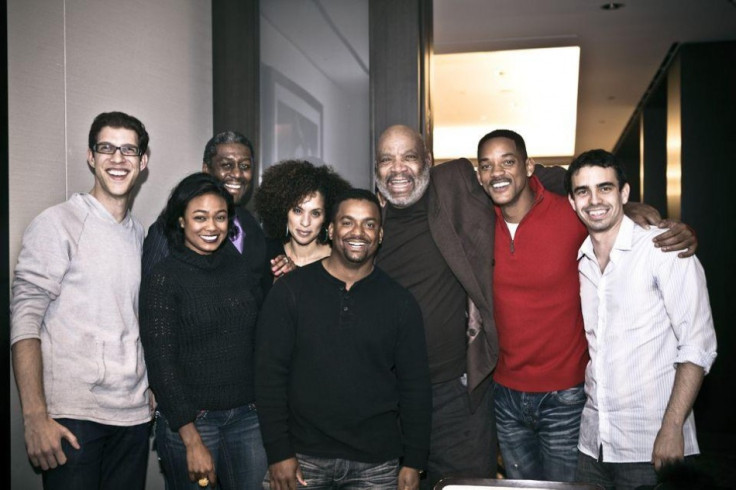 Will Smith and the rest of The Fresh Prince of Bel Air cast sent fans wild after a picture showing them all together was shared by Alfonso Ribeiro (aka Carlton Banks) on social media.
The image comes after fans called for the his US comedy to be brought back, with Smith taking on the role of Uncle Phil. The original Uncle Phil, James Avery, sadly passed away in 2013 aged 68.
Ribeiro, 45, no doubt enjoyed sending fans into a frenzy as he hinted at a show reunion with the Instagram snap of smiling cast members on 27 March.
Joining Smith and Ribeiro in the picture taken at Nobu, Malibu, is Tatyana Ali (Ashley), Karyn Parsons (Hilary), Daphne Maxwell Reid (Vivian) and Joseph Marcell (Geoffrey).
Ribeiro captioned the shot with: "Always amazing to spend an afternoon with my Fresh Prince family. Wishing that James Avery was still with us to make this complete." Avery passed away from complications following open heart surgery at Glendale Memorial Medical Center, but was a huge part of the show which ran from 1990-1996.
Fans of the show were overjoyed to see the snap, with one person commenting: "This is the best thing ever" as another suggested: "How about a tribute episode to uncle Phil and dont for get to bring jazzy too".
A third wrote: "This has made my day. Just so sad about James Avery but I'm sure he'll be smiling down on this".
It's not the first time rumours have circulated over a comeback, as Marcell sparked another frenzy in 2016 when he suggested the show may return with Smith's son Jaden in the lead role.
He said: "It'd work really well because in a more ­modern situation you can deal with more current ­affairs and make them funny.
"I need the ­money, I know that much, so bring it on! I never doubted that Will would be a huge success. That said, I think the powers that be had big plans for him. I don't think his prominence was accidental," he added.
The US sitcom originally aired on NBC and starred Smith as a fictionalised version of himself, a streetwise teen from West Philadelphia who is sent to move in with his wealthy aunt and uncle in their Bel Air mansion after getting into a fight on a local basketball court.