A dog left chained under a vacant house for five years after her owner was murdered, was forced to chew off her own foot to escape from the tether.
Now, brave Treya has been thrown a lifeline by a St. Louis animal shelter who are raising money to buy her a prosthetic foot.
The white terrier was left isolated and chained under the deck of an abandoned house when her owner was killed, demonstrating an often overlooked consequence of homicide. St. Louis has the second highest murder rate in the US.
Neighbours provided her with hay to keep her warm and enough food for her to survive for half a decade.
Then, earlier this year, the chain became tightly wrapped around Treya's leg. She was in so much pain that she was forced to gnaw through her own flesh and bone to free herself.
The neighbours called Stray Rescue of Saint Louis, an animal shelter and welfare charity established almost 20 years ago, who sent specialist carers to the scene.
"Rescuing her wasn't easy. She feared humans from lack of socialization, being isolated in her own private agonizing world," Stray Rescue said in a statement.
"Once back at our trauma center, besides the obvious missing foot, we discovered she also has heartworm and a wicked case of a flea infestation. Her emotional wounds are matched in intensity to her physical ones."
Fortunately, Treya was introduced to fellow stray Pinky, who weighs just 15 pounds but oozes confidence and character. The pair have become best friends and Freya's tail has started wagging for the first time in years.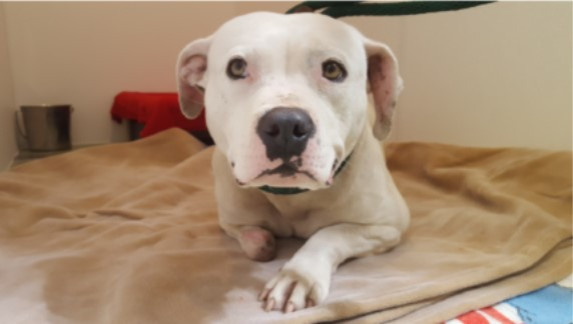 Stray Rescue are fundraising to get Treya's various conditions treated. They estimate her heartworm will cost $1,200 (£930) to cure and a prosthetic limb will be $3,000.
"The thought of chewing off a limb just to survive haunts all of us at Stray Rescue," Founder Randy Grim told WRAL.
"She's a beautiful, wonderful dog [so] for her to get this second chance at life without chains; a life with people; a life with other dogs and hopefully – down the road – a life with a leg: what more can you ask for?" Grim said.