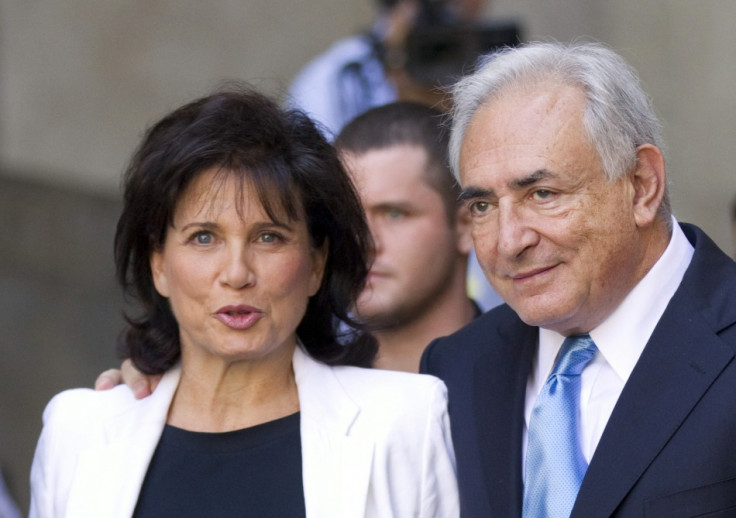 Dominique Strauss-Kahn and his wife Anne Sinclair will sue French celebrity magazine Closer for invading their privacy by publishing a story claiming they have separated.
The former IMF chief and his wife's lawyers said: "Having taken note of the cover and content of celebrity magazine Closer, Dominique Strauss-Kahn and Anne Sinclair have decided to sue this publication for invasion of privacy."
The magazine claimed Sinclair had thrown Strauss-Kahn out of their home in central Paris and were living separately.
The magazine did not cite any sources for the online version of the story.
A source close to Strauss-Kahn said a separation had happened sometime in May, according to Reuters.
Speculation that the couple had split has been rife in French media for weeks, with claims Strauss-Kahn, 63, was depressed about his failing career and his wife's success.
Sinclair, a 64-year-old journalist who is the news editor the French version of the Huffington Post, stuck by her husband of 20 years as he was embroiled in a series of sex scandals that saw him resign from the International Monetary Fund and dashed his hopes of making a bid for the French presidency.
His career was effectively ended after he was arrested in May 2011 on accusations he sexually assaulted a New York hotel maid.
Strauss-Kahn has been hit with fresh allegations of sex crimes including allegedly being linked to a prostitution ring in the northern city of Lille.
French prosecutors have also opened a preliminary investigation into accusations he took part in a gang rape in the United States.
Strauss-Kahn denies committing criminal acts in both cases.