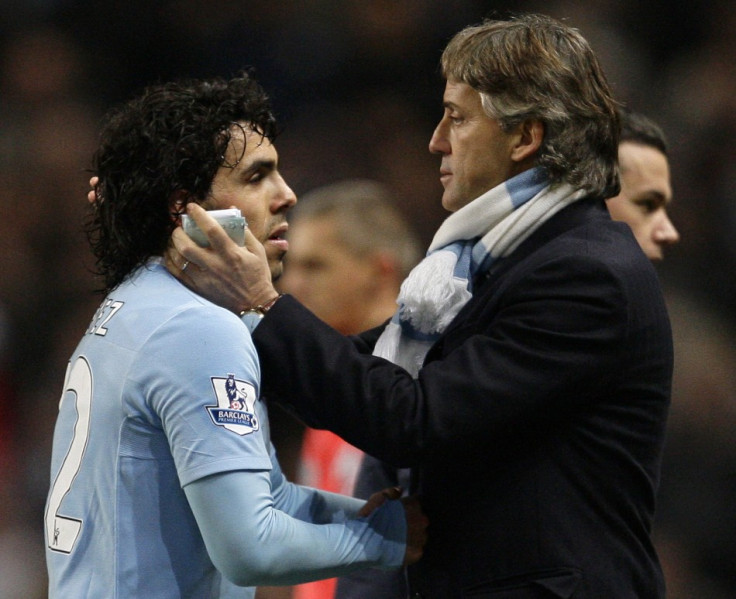 Roberto Mancini has once again insisted Carlos Tevez has played his final game for Manchester City following the striker's decision not to return from Argentina.
At the beginning of the month and following the Professional Footballers' Association's intervention into an increasingly fractious relationship, Mancini had tentatively offered the aforementioned former Manchester City captain a reprieve.
"Everything depends on Carlos (Tevez)." The Manchester City manager told Italian newspaper Corriere della Sera. "If he apologises to the squad and to me then everything will be as before. If he doesn't then Tevez has a value that everyone knows and something will happen in January.
"He is totally unprepared and being badly advised. I don't want it to be like this and I would be the first to forgive him."
Despite the offer of an olive-branch by his manager and the reduction of his initial four-week fine for refusing to warm-up against Bayern Munich in the Champions League, Tevez failed to appear for training at Manchester City's Carrington complex on November 9 having directly contradicted Mancini's instructions.
Instead he was pictured arriving in Buenos Aires the previous day and once again failed to show up for a scheduled disciplinary meeting on Monday 14November.
Mancini's pre-match press-conference prior to their Premier League match against Newcastle United was dominated by questions regarding Tevez's immediate and long term futures at Manchester City, and while the Italian was loath to discuss Tevez, he suggested the striker had probably played his last game for the club.
"I don't think so. I know he is in Argentina. I don't know what he is doing." Mancini responded when asked if Tevez could play for Manchester City again.
When pressed on whether or not the club had managed to make contact with Tevez, he responded: "No. It is not important at this moment. We have this problem and we hope it can be resolved."
Mancini was continuously peppered with question regarding Tevez, but was clearly eager to concentrate on tomorrow's match.
"Why are we continuing to talk about Carlos? We have an important game tomorrow," Mancini said.
"The squad is good and the players are positive at this moment. It is important that we start [back in] the Barclays Premier League tomorrow with a result."