On the campaign trail, it was customary for US President Donald Trump to scorn former president Barack Obama for the amount of golf he played.
Obama reportedly racked up 333 rounds of golf in his eight-year presidency and Trump regularly accused him of placing the game ahead of the country's best interests.
But just over 11 weeks into his presidency, Trump has already hit the golf course 18 times – on par to out-strike his predecessor by several rounds, even if he only serves one term.
If Trump continues at his current timetable of playing golf, he would accumulate 340 rounds by the end of the first term and a total of 680 if the American people vote to keep him in power for four more years.
He was spotted playing his latest round at the Mar-a-Lago getaway in Florida on Sunday, 9 April, shortly after authorising a missile attack against a Syrian airbase.
In 2013, when Obama was mulling an airstrike on Syria but refused, Trump said via Twitter: "Pres Obama is not busy talking to Congress about Syria ... he is playing golf ... Go figure."
The irony is that many leading American lawyers have argued Trump's strikes on Syria were unconstitutional because Congress's permission was not sought for the strikes. They are also considered by some to be a breach of international law.
Trump not only criticised Obama's level of golf, but promised to stay off the course altogether if he was elected.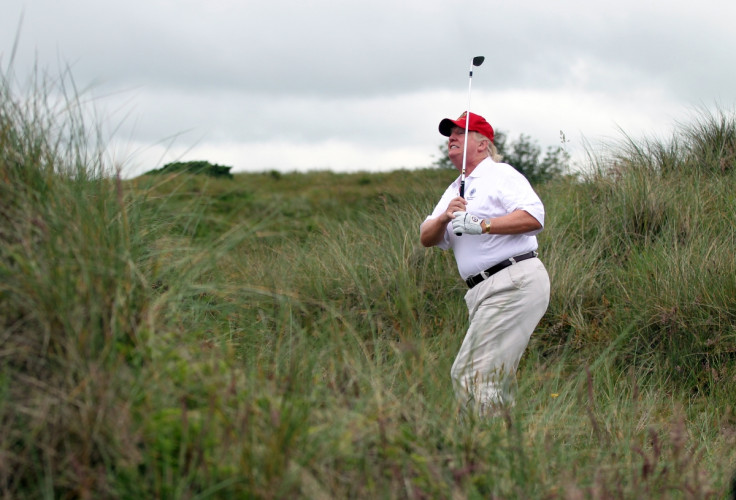 "You know what – and I love golf – but if I were in the White House, I don't think I'd ever see Turnberry again, I don't think I'd ever see Doral again – I own Doral in Miami – I don't think I'd ever see many of the places that I have," Trump said during a campaign speech last year.
"I don't ever think that I'd see anything, I just wanna stay in the White House and work my ass off, make great deals, right? Who's gonna leave? I mean, who's gonna leave?"
He is also reported to have said: "I mean he's played more golf than most people on the PGA Tour, this guy [Obama].
"What is it, over 300 rounds?"
The White House has been reticent to confirm the number of rounds Trump has played so far, but websites such as TrumpGolfCount.com have sprung up to keep track of the number of rounds played.