US President Donald Trump has firmly thrown his weight behind Japan after North Korea conducted a ballistic missile test. In a short statement jointly issued with Japan's Prime Minister Shinzo Abe, Trump said Washington was "100 percent" behind Tokyo in the rapidly changing geopolitical atmosphere.
In a previously unscheduled press conference, Abe and Trump took the podium soon after news about Pyongyang's surprise missile launch emerged. Speaking from the US president's Mar-a-Lago resort in Florida, Abe started by saying the North's actions were "absolutely intolerable" considering the situation in the region.
"During the summit that I had with President Trump, he assured me that the United States will (be) always with Japan 100 percent and to demonstrate his determination as well as commitment, he is now here with me at this joint press conference," said the Japanese leader.
Trump then said: "I just want everybody to understand and fully know that the United States of America stands behind Japan, its great ally, 100 percent."
On Sunday (12 February), a defiant Kim Jong-un regime launched a ballistic missile, which is thought to be of either short- or medium-range, raising tensions on the Korean peninsula. Both the US and South Korea have confirmed the missile launch and said they were closely monitoring the situation.
The North is yet to formally announce the test, the first since Trump took office.
Slamming the test, the South Korean foreign ministry said: "[The missile launch] is not only an explicit and clear violation of related UNSC resolutions but also a grave threat to the peace and stability of the Korean peninsula and the international community as a whole."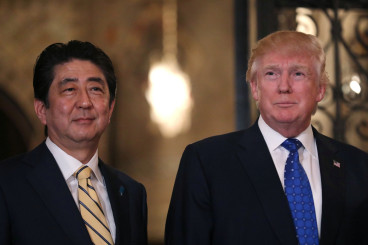 "This demonstrates the irrational nature of the Kim Jong-un regime that has been fanatically obsessed with its nuclear and missile development."
The South Korean presidential office has also held a 50-minute emergency session on the national security situation. Authorities have pledged to come up with a "strong response" after coordinating with the global powers.