The National Rifle Association (NRA), the leading gun-rights advocacy group in the US, has said it sees Donald Trump as the only alternative to Democratic front-runner Hilary Clinton. Although the Republican candidate had once supported a ban on gun attacks, the NRA said it would unite behind Trump or "kiss your guns goodbye" if Clinton is elected.
"We have to unite and we have to unite right now," Chris Cox, head of the NRA's lobbying arm, said at a meeting in Louisville, Kentucky, according to AFP.
"So on behalf of the thousands of patriots in this room, the five million NRA members across this country, and the tens of millions who support us, I'm officially announcing the NRA's endorsement of Donald Trump for president," Cox added.
Trump had earlier said he would oppose banning guns in the US, promising to protect Americans' rights to self-defence. "I will not let you down," Trump said.
NRA's chief executive Wayne LaPierre proclaimed that Clinton should be prevented from becoming the president and from appointing a new judge to fill a vacancy at the Supreme Court.
"If she gets just one Supreme Court nomination, Hillary's court will hold that the [US Constitution's] Second Amendment is a government right, not an individual right, and you can kiss your guns goodbye," LaPierre said. The Second Amendment, which was adopted in 1791, protects the right of people to keep arms.
Clinton had made reducing gun violence a key policy in her election campaign.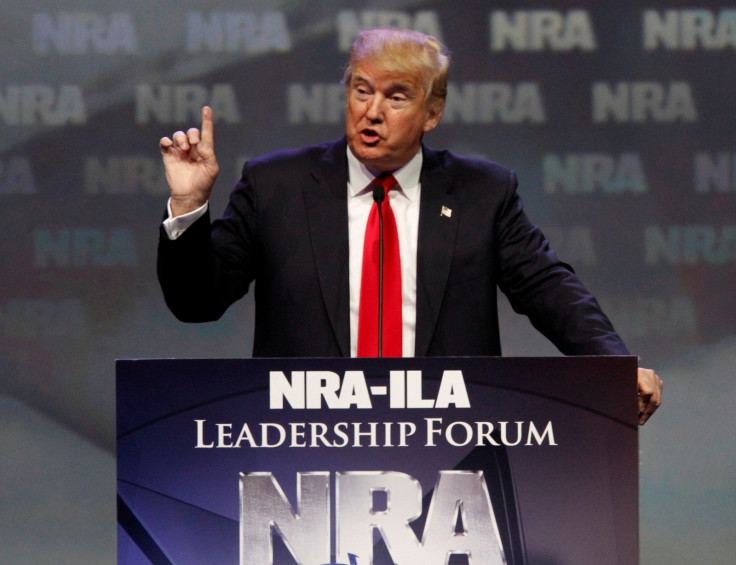 Targeting President Barack Obama's executive orders on reducing gun violence and eliminating illegal gun sales through the internet, Trump said: "They'll be un-signed the first hour that I'm in office. We're getting rid of gun-free zones, OK? I can tell you."
Trump bragged about his own long-term membership with the NRA and boasted about his sons owning so many firearms that sometimes "leaves even him a bit concerned".
Attempting to paint Clinton as an anti-gun reformist who he said would take away Americans' constitutional rights, Trump declared: "The Second Amendment is under a threat like never before."
Trump reiterated his assertion that the terror strikes in France could have been minimised or even avoided if citizens had been armed. "Paris is, probably in the world, the toughest place to have a gun," he said. "No guns on the other side folks. If you would have had guns on the other side... I promise there wouldn't have been 130 people killed."