Donald Trump hugged an 88-year-old sex slave and that really annoyed Japan
KEY POINTS
US President Donald Trump is visiting South Korea and Japan during his Asia trip.
"Comfort woman" Lee Yong Soo was invited to a state banquet by her government.
The photo opportunity has irked Tokyo, who thought the issue was settled in 2015.
US President Donald Trump embraced an 88-year-old former sex slave at a banquet 8 November as South Korea made a bold statement that will infuriate neighbours Japan.
The woman, Lee Yong Soo, was enslaved by the Japanese Army during World War II when she was just 16-years-old. She is one of around 30 living "comfort women" who served the Japanese.
South Korean President Moon Jae In invited Lee to the state gala to meet with Trump in front of the cameras, sending a clear message to the Japanese that the issue has not been forgotten in spite of Tokyo making compensation payments to survivors in 2015.
The US President is midway through a five-nation tour of Asia as he marks the anniversary of his election victory over Hillary Clinton in 2016.
He found himself in a tight spot as Lee leaned into hug him. It was not an offer he could reasonably refuse but he, or someone close to him, should know just how contentious the issue "comfort women" remains in Sino-Korean relations.
Japan's top government spokesman, Cabinet Secretary Yoshihide Suga, was not critical of Trump but expressed dismay that Lee had been invited to meet the president at such a high profile event, Japan Today reported.
"At a time when stronger coordination between Japan, the United States and South Korea is required to deal with the North Korea issue... there is a need to avoid making moves that could negatively affect the close coordination" he said.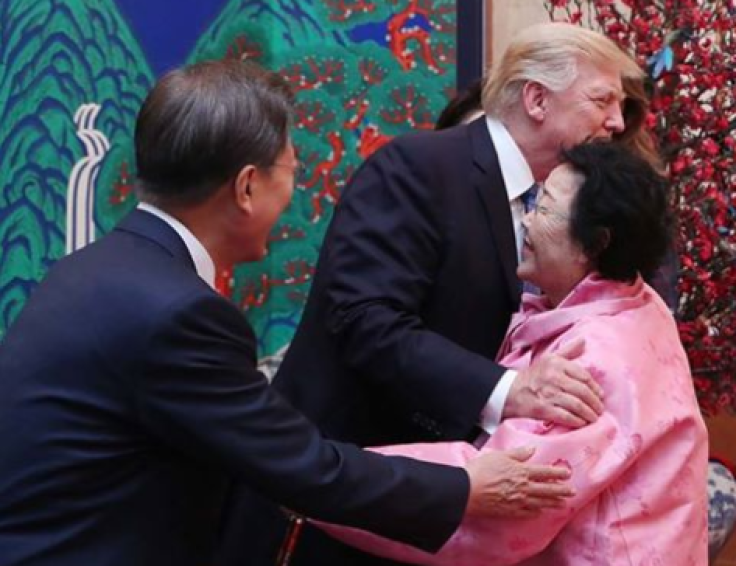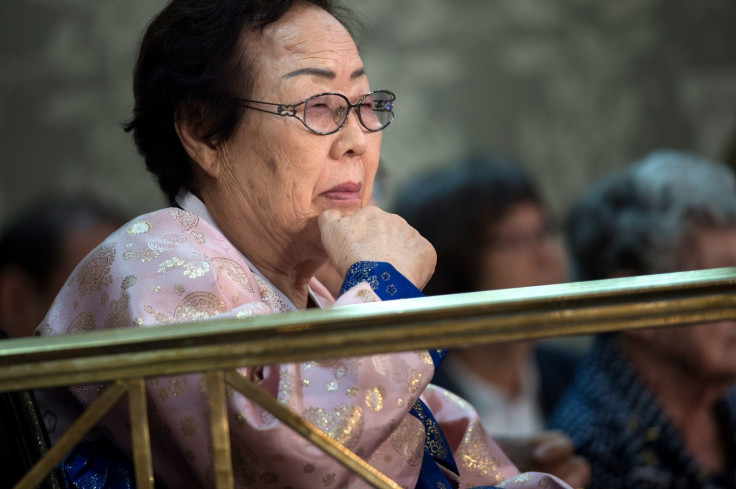 Lee is one of the most outspoken surviving "comfort girls" and travelled to Washington to hear a Capitol Hill speech made by Japanese premier Shinzo Abe in 2015 where he sidestepped making an apology for the sex trafficking of Korean women.
In the same year, he agreed to pay $8.3m (1 billion yen) to victims of comfort women, hoping that that would allow both countries to put the matter behind them and enjoy cordial diplomatic relations.
However, Lee and many Koreans do not feel that the agreement, and it's lack of a full apology, properly addresses the violations she and others like her suffered. Meanwhile, right wing politicians in Japan are adamant that the nation spends too much time atoning for its wartime past.
As if that was not enough, the Japanese press are also fuming over the menu selection at the South Korean banquet, which offered Dokdo Shrimp, a seafood native to waters surrounding an island ("Dokdo" to Koreans, "Takeshima" to the Japanese) at the centre of an ongoing territorial dispute.