Donald Trump Jr. has claimed comments his father made about groping women are commonplace among men and 'a fact of life'.
Trump Jr. was appearing on the radio station KIRO's Dori Monson Show on Friday (21 October) when he appeared to be defending his father's remarks about sexually harassing women in a 2005 video on Access Hollywood.
"...I think we probably all know guys who have had conversations with other guys that go a little bit in that direction, that's a fact of life," he explained.
The 38-year-old admitted the comments were a 'mistake', but said it was indicative of how his father 'says what he means'.
"I think he's able to relate to ordinary Americans because in many cases he is still very much like that," said Trump Jr according to Mail Online. "He does do that. He hasn't spent his whole life sitting there polishing every statement he's ever made, every conversation he's ever had.
"He doesn't run a focus group so he can tell you what he's thinking. He speaks from the heart, that one is obviously one that we don't want to - that was a mistake, he recognizes that. He realizes it, but he's able to make a mistake because he hasn't spent his whole life just trying to be a politician."
In the three-minute long video, which was made public on Friday (7 October) by The Washington Post, Trump brags about sexually harassing women saying: "I just kiss them. I don't ask ...Grab them by the p****. When you're a star they let you do it. You can do anything."
After the footage was published, Trump issued a video apology in which he dismissed the crude conversation with presenter Billy Bush as "locker room banter".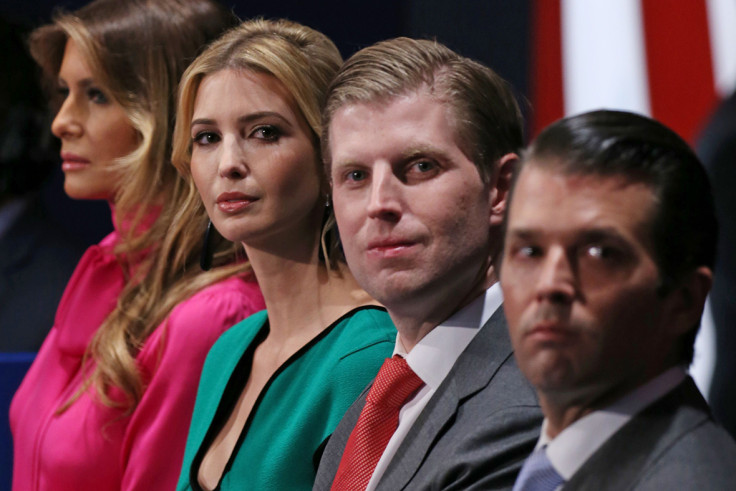 Trump Jr.'s reaction to the video contrasts starkly to the response by the Trump women. The GOP candidates wife former model Melania Trump said the comments were "unacceptable" and personally "offensive," but called on the US electorate to forgive him as she had.
"The words my husband used are unacceptable and offensive to me," she said in a statement. "This does not represent the man that I know. He has the heart and mind of a leader. I hope people will accept his apology, as I have, and focus on the important issues facing our nation and the world."
Trump's daughter Ivanka also admitted that her father's comments about molesting women were 'clearly inappropriate and offensive', but added: "This tape was over a decade old. I'm sure he didn't remember this conversation."
Trump's offensive statements have sparked a public outcry, prompting his running mate Indiana Governor Mike Pence and several senators and congressmen to withdraw their support for the billionaire property mogul. Celebrities have also joined in the clamour against Trump, with Robert De Niro branding him "blatantly stupid".
The Republican candidate is facing mounting allegations of sexual assault since the 'hot mic' footage was made public, as more women come forward with accounts of being sexually harrassed by the property mogul.
Trump, however, has vehemently denied the allegations of inappropriate sexual behaviour towards women, insisting "no one respects women more than me."