Donald Trump's wife Melania Trump has spoken out in condemnation of her husband for his lewd and derogatory remarks about women, in a video that went public on Friday (7 October).
In the three-minute long video taken during a recording of Access Hollywood, Trump describes how he could kiss a woman if he wanted to. " I just kiss them. I don't ask," he says. "Grab them by the p****. When you're a star they let you do it. You can do anything."
Trump subsequently issued a video apology in which he dismissed the comments as "locker-room banter."
While she admitted the comments made in 2005, just months after their marriage were 'unacceptable' and 'offensive to me', the 46-year-old former model called on the US electorate to accept his apology.
"The words my husband used are unacceptable and offensive to me. This does not represent the man that I know," she insisted. "He has the heart and mind of a leader. I hope people will accept his apology, as I have, and focus on the important issues facing our nation and the world," the statement read.
Trump's offensive statements have sparked a public outcry prompting his running mate Indiana Governor Mike Pence and several senators and congressmen to withdraw their support for the billionaire property mogul. Celebrities have also joined in the clamour against Trump, with Robert De Niro branding him "blatantly stupid".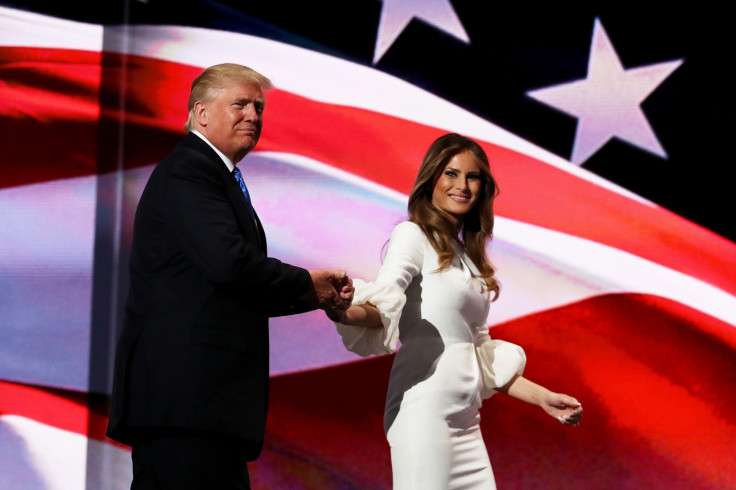 "Colin Powell said it best: He's a national disaster. He's an embarrassment to this country," the actor added.
Meanwhile, Nancy O'Dell, the woman who was the focus of Trump's tawdry comments in the 2005 video, has also spoken out, saying she was 'disappointed' by the flagrant objectification of women, adding "no person, should be the subject of such crass comments".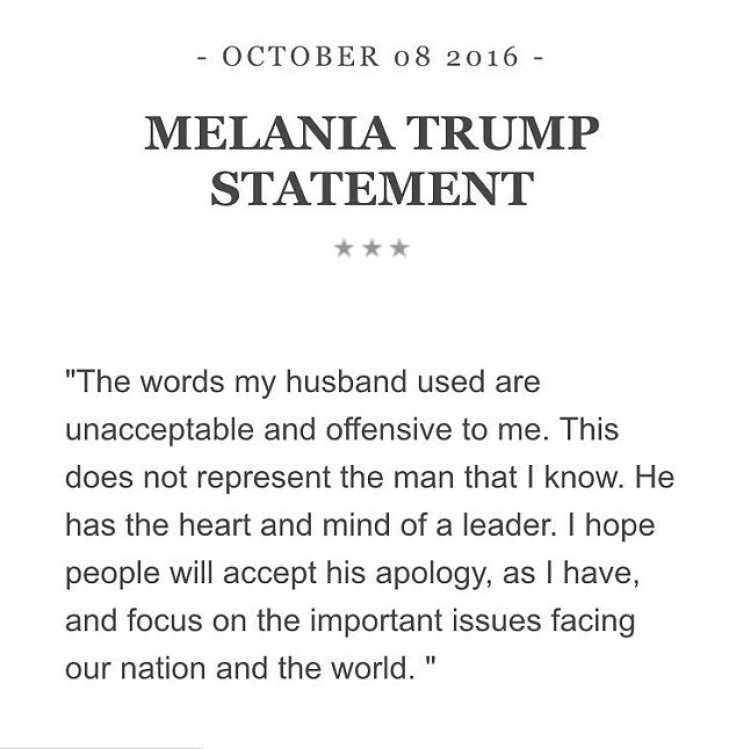 "Politics aside, I'm saddened that these comments still exist in our society at all," she said. "When I heard the comments yesterday, it was disappointing to hear such objectification of women. The conversation needs to change because no female, no person, should be the subject of such crass comments, whether or not cameras are rolling. Everyone deserves respect no matter the setting or gender.
"'As a woman who has worked very hard to establish her career, and as a mom, I feel I must speak out with the hope that as a society we will always strive to be better," she said in a statement.
Trump himself seems undeterred by the public backlash. This evening he took to social media to react to the furore saying simply: "Certainly has been an interesting 24 hours!"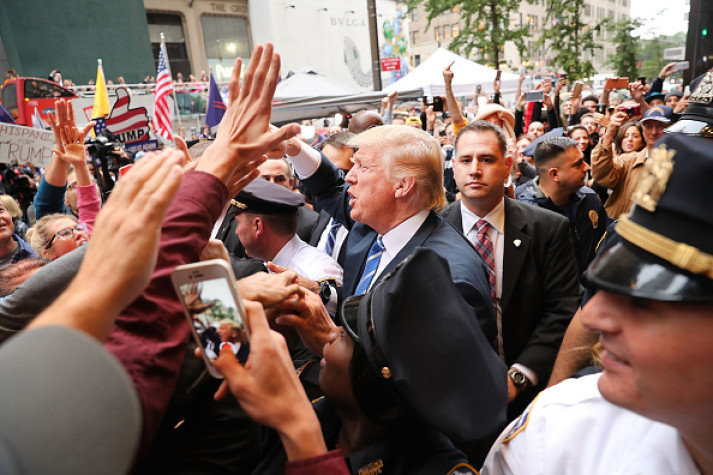 He reiterated his earlier statement, insisting that he has no intention of dropping out of the presidential race. "The media and establishment want me out of the race so badly - I WILL NEVER DROP OUT OF THE RACE, WILL NEVER LET MY SUPPORTERS DOWN! #MAGA"
Trump told the Wall Street Journal that there is 'zero chance' he'll quit while insisting that he's getting 'unbelievable' support from his backers. "I never, ever give up. The support I'm getting is unbelievable, because Hillary Clinton is a horribly flawed candidate," Trump told the Wall Street Journal on Saturday.
Just hours after his wife's statement, the Republican nominee emerged from Trump Tower in New York appearing unphased by the clamour for him to step aside and defiant, as he was mobbed by supporters who had converged on Fifth Avenue.
None of Trump's children have so far reacted to the video.
Battle for Orlando: Who is voting for Donald Trump and Hillary Clinton in the key swing state of Florida? from International Business Times on Vimeo.