Donald Trump has received his first classified intelligence briefing on threats to the US and other security issues to help prepare him as the commander-in-chief if he wins the presidential election in November. The meeting at an FBI field office in New York City on Wednesday (17 August) came just hours after the Republican presidential nominee expressed scepticism at US intelligence agencies.
Prior to the briefing, Trump was asked whether he "trusted intelligence" in an interview with Fox & Friends. He replied: "Not so much from the people that have been doing it for our country."
The GOP nominee added: "I mean, look what's happened over the last 10 years," in a reference to the war in Iraq. "Look what's happened over the years. I mean, it's been catastrophic. In fact, I won't use some of the people that are standards – you know, just use them, use them, use them, very easy to use them, but I won't use them because they've made such bad decisions."
According to the Washington Post, the New York businessman was likely referring to 50 of the country's top Republican national security officials who signed a letter warning of a Trump presidency.
"From a foreign policy perspective, Donald Trump is not qualified to be president and commander-in-chief. Indeed, we are convinced that he would be a dangerous president and would put at risk our country's national security and well-being."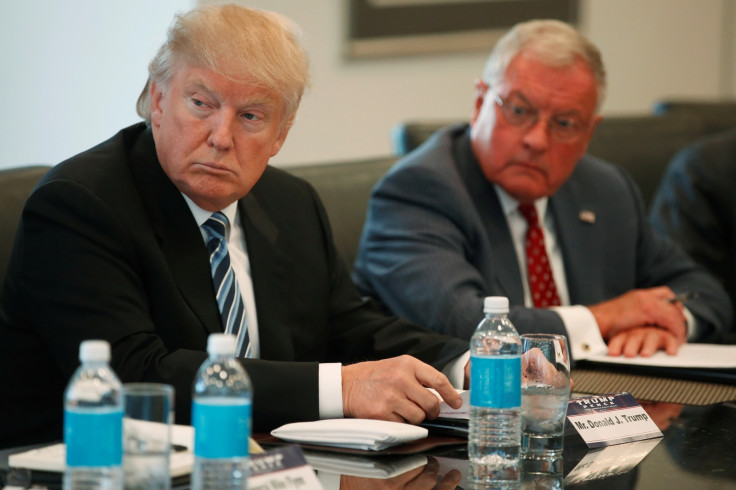 Trump was reportedly accompanied to the meeting by New Jersey Governor Chris Christie and retired US Army Lieutenant General Michael Flynn. Before the briefing, Trump held a "security round table" at Trump Tower.
Democratic nominee Hillary Clinton will also receive the intelligence briefing as it is standard procedure for all major party presidential nominees. Pouncing on the opportunity to take a swipe at his political rival, Trump said the email scandal showed that she does not know how to handle classified information.
"I'm worried about her getting it because of her email situation," he said. "She can't keep anything private. I think that she – I really mean this, by the way. I think her email scandal is one of the worst I've ever seen."
Nominee briefings are not at the same level as the President's Daily Brief (PBD), NBC News reported. There are usually one or two briefings and each candidate receives the same briefing.