Donald Trump slaps Steve Bannon with cease-and-desist after 'treason' claim in Michael Wolff's 'fire and fury' book
Bannon's comments enraged the president who said that the former advisor had "lost his mind."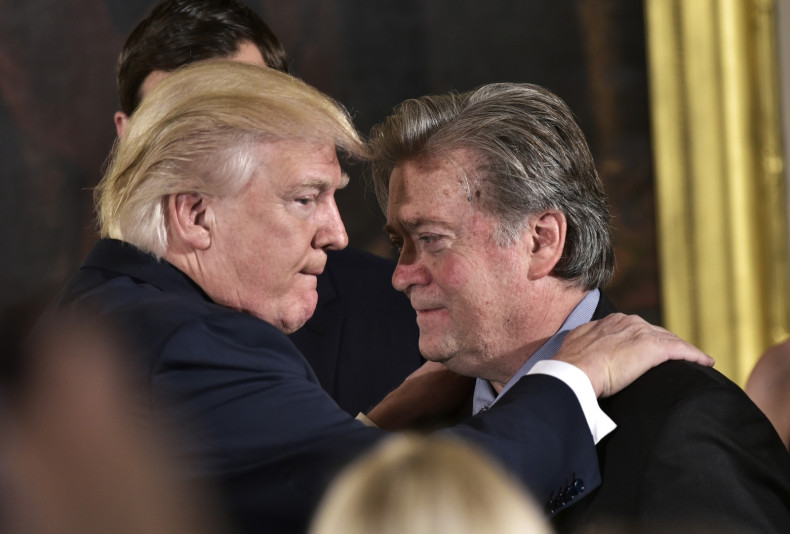 Donald Trump's lawyers hit Steve Bannon with a cease-and-desist order following revelations made about the president in a new book.
The order accuses Trump's former chief strategist of defaming the president after Bannon spoke to the author Michael Wolff about his time both on the election campaign and in the White House.
The book, Fire and Fury: Inside the Trump White House, makes a series of claims, including that Bannon felt the meeting at Trump Tower between Donald Trump Jr and Russians was "treasonous."
The book also claims that the Trump family were both shocked and horrified by the election upset in November 2016, with Trump's wife, Melania, reportedly in tears as the results came in.
The book also suggested that Trump's daughter, Ivanka, has worked on a plan along with her husband Jared Kushner to become the "first woman president."
Ivanka was also cited as being someone who mocked Donald Trump's infamous combover hairstyle.
Trump's lawyers said that Bannon had broken his employment agreement by speaking to Wolff about the events inside the White House by "disclosing confidential information" as well as "making disparaging statements and in some cases outright defamatory statements to Mr Wolff about Mr Trump, his family members, and the Company."
The president reacted angrily to the revelations on Wednesday afternoon (3 January) claiming that "Steve Bannon has nothing to do with me or my presidency. When he was fired, he not only lost his job, he lost his mind.
"Steve was a staffer who worked for me after I had already won the nomination by defeating seventeen candidates, often described as the most talented field ever assembled in the Republican party."
Bannon was fired by Trump in August 2017, and went on to return to his former right-wing website, Breitbart.