Donald Trump used his inaugural State of the Union address to criticise North Korea, which he described as "cruel, depraved and oppressed".
Watching Trump speak in the Capitol were the parents of Otto Warmbier, the American student who died just days after his release from a North Korean prison last year. They received standing ovations at the annual address after Trump paid tribute to them.
Also watching was North Korean defector, Ji Seong-ho, who now lives in the South.
Trump said of the Kim regime in Pyongyang that "no regime has oppressed its own citizens more totally or brutally than the cruel dictatorship in North Korea".
He described the Warmbier family as "powerful witnesses to a menace that threatens our world".
"Your strength truly inspires us all," he continued.
The death of Otto Warmbier, a US student who had been visiting North Korea, sparked outrage in the US.
Warmbier, an economics student from the University of Virginia, was given a 15-year prison sentence after attempting to steal a propaganda sign from a hotel.
It was revealed in June 2017 that Warmbier had been in a coma for several months. His deteriorating condition prompted North Korea to release him back to the US, where he died days later.
North Korean officials claimed he had a stroke in the early days of his incarceration and never recovered.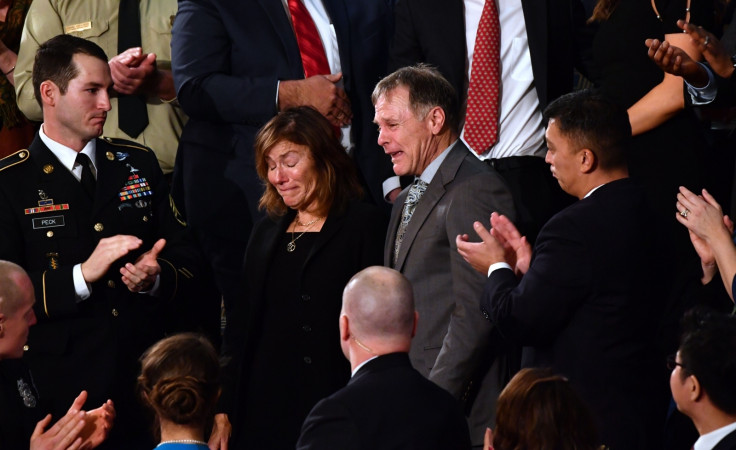 Trump also singled out defector Ji Seong-ho in the audience. Ji defected more than 20 years ago.
He had collapsed from starvation and exhaustion while collecting coal and was arrested and tortured, Trump said.
He escaped, however, and fled through the northern border with China on crutches.
Most of his family followed but his father was caught trying to escape and was tortured to death.
"I understand you still keep those old crutches as a reminder of how far you've come," Trump told him. Ji raised his crutches in reply to applause from the audience.
"Your great sacrifice is an inspiration to us all. Seong-ho's story is a testament to the yearning of every human soul to live in freedom."
While no new policies were announced by Trump, he said that his administration was applying "maximum pressure" to curb Kim Jong-un's efforts to become a nuclear power.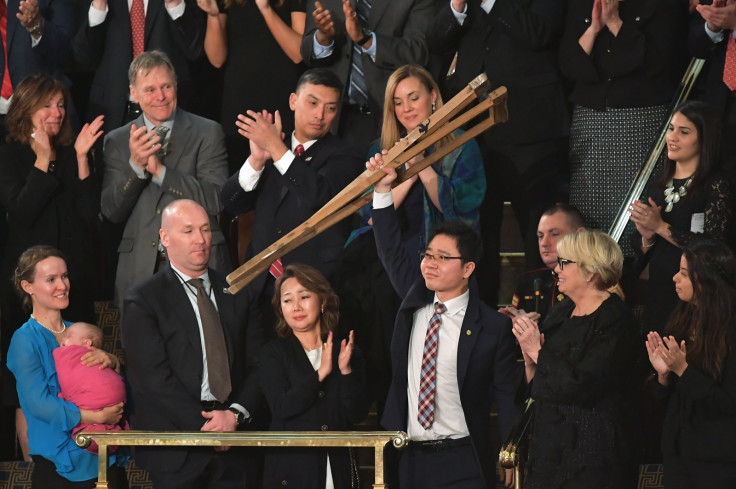 Since becoming president, Donald Trump has repeatedly threatened Pyongyang in an escalating game of verbal jibes between himself and the Kim regime.
Fresh UN sanctions and ongoing North Korea missile tests have ratcheted up already high tensions.
Over the summer, Trump threatened North Korea with "fire and fury" if it continued its nuclear missile developments.
This prompted angry responses from Pyongyang. The state-run newspaper called for Trump to face the death sentence.
And in early 2018, after Kim boasted that he had a red nuclear button on his desk, Trump hit back to claim that his button was "bigger and more powerful".
The North responded by calling Trump a "spasm of a lunatic".
At his speech in Davos for the World Economic Forum, Trump urged the world to focus on efforts to "de-nuke" the Korean peninsular.