Over 2,500 people, including family, friends and well-wishers of American student Otto Warmbier, attended his funeral on Thursday (22 June) morning.
The 22-year-old died on 19 June shortly after being freed from a detention facility in North Korea. The ceremony was held at a high school in Wyoming, Ohio, from where he completed his schooling before enrolling at the University of Virginia.
The auditorium where the service was held has the capacity to accommodate around 800 people at a time but considering the large number of mourners, arrangements were made in overflow rooms. Additional attendees watched the funeral on monitors, CNN reported.
The service was held for around 45 minutes, before Warmbier's body was taken to a cemetery. Mourners wore blue and white ribbons - the school colours - to honour the former student. Bagpipes were played as people formed two lines to head for the cemetery. Warmbier's brother, sister and friends delivered eulogies during the service.
Cynthia Meis, one of Warmbier's former school counsellors, said the community had been holding its collective breath while he was jailed in North Korea. "He was going to set the world on fire, which is why this loss is so profound."
Warmbier was a student at the University of Virginia when he travelled to North Korea in January 2016 as a tourist. He was arrested for treason as he was leaving for the US.
Later, he was seen on TV tearfully confessing that he attempted to steal a propaganda banner from a hotel. He was then sentenced to 15 years of hard labour. However, on 13 June, after spending about 17 months in captivity, Warmbier was sent back to his country in a state of coma on "humanitarian grounds".
Warmbier's parents – Fred and Cindy – said they had not been informed about their son's state and had learnt of it only a week before his release.
North Korea has said Warmbier's coma was due to botulism and a sleeping pill, but his family and doctors reject the claim. They have blamed his death on the "awful, torturous mistreatment" he received in North Korea.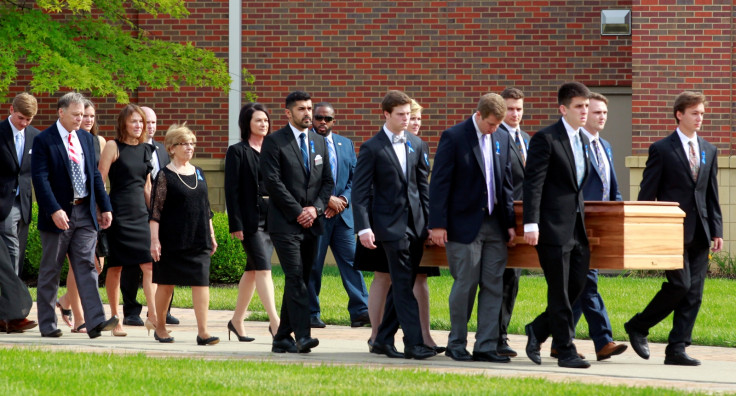 His death has increased tensions between the US and North Korea.
President Donald Trump came down heavily on North Korea after Warmbier's mysterious death. "He spent a year and half in North Korea, a lot of bad things happened, but at least we got him home to be with his parents.
"They were so happy to see him even though he was in a tough condition. It's a brutal regime and we'll be able to handle it," Trump said.