Presidential hopeful Donald Trump has threatened to send a mob of supporters to disrupt the next public event of opposition candidate Bernie Sanders, after a cancelled Trump rally in Chicago escalated into violence.
Trump was forced to postpone a political appearance in Chicago after fights between hundreds of rival supporters, protestors and demonstrators resulted in scenes of chaos and police officers being injured. Later in the day, speaking at a rally in Dayton, Ohio, Trump branded the violence a "planned attack" and lambasted supporters of Democratic opponent Sanders as "thugs".
"You know where they come from? Bernie's crowd. They're Bernie's crowd," he claimed.
While denying accusations that he had any involvement in organising supporters to attend the Chicago rally, Sanders pushed back against Trump's allegations.
"I don't think our supporters are inciting," he said. "What our supporters are doing is responding to a candidate who has, in fact, in many ways, encouraged violence. As is the case virtually every day, Donald Trump is showing the American people that he is a pathological liar."
In response, posting to Twitter, Trump threatened: "Bernie Sanders is lying when he says his disruptors aren't told to go to my events. Be careful Bernie, or my supporters will go to yours!"
The progressive group 'MoveOn', which has endorsed Sanders, helped to organise the Chicago rally by printing protest signs and recruiting members to attend, blamed the trouble on the rhetoric from Trump.
"Let's be clear about one thing, the protest [was] a direct result of the violence that has occurred at Trump rallies and that has been repeatedly encouraged by Trump himself from the stage," said Ilya Sheyman, executive director of MoveOn.org. "There is only one person to blame for the chaotic and often violent nature of Trump rallies: Donald J. Trump. This sort of violence does not happen at Sanders, Cruz, Clinton, Rubio, or Kasich events, despite the fact that there are often protests at their events."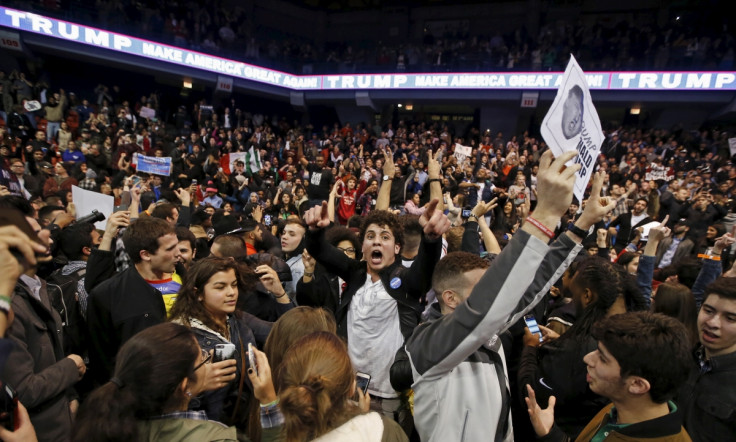 In his public speeches Trump has done little to curb the situation. The Guardian reported that more than 30 arrests were made at the Republican candidate's St Louis rally on 11 March.
In response to the incident, Trump said: "Part of the problem and part of the reason it takes so long [to kick protesters out] is nobody wants to hurt each other anymore." He added: "There used to be consequences. There are none any more. These people are so bad for our country. You have no idea folks, you have no idea."
In a separate case, a Donald Trump supporter at a rally in North Carolina was caught on video punching a black protester in the face before boasting on national TV: "Next time we may have to kill him."
The man in question, John Franklin McGraw, 78, was later arrested and charged with assault and disorderly conduct.
US President Barack Obama warned White House contenders to avoid further clashes of violence. Obama said candidates should not resort to "insults" and "certainly not violence against other Americans".
Speaking at a Democratic Party fundraiser in Dallas on Saturday, 12 March, Obama said: "This is not about political correctness. It's about not having to explain to our kids why our politics sounds like a schoolyard fight. We shouldn't be afraid to take them to rallies or let them watch debates.
"They watch the way we conduct ourselves. They learn from us. And we should be teaching them something about this democracy as a vibrant and precious thing."