Donald Trump's first foreign trip as US President has been marked by another unscripted absurdity today (25 May).
With images of First Lady Melania appearing to brush him off as he tried to hold her hand at an airport in Tel Aviv fresh in the memory, Trump locked palms with French President Emmanuel Macron – for a really long time.
The two world leaders got seemingly stuck in a handshake – possibly the most awkward in history – for almost 10 seconds when they met in Brussels ahead of the Nato summit.
Trump is famous for his drawn-out handshakes, accompanied with an intense alpha-male grimace.
His French counterpart rose to the challenge, meeting the Home Alone star's eye and shooting back a scowl of his own.
Moments before, Trump had made some kind remarks about Macron's recent victory in the French presidential election.
However, it will not have escaped the 39-year-old that the New Yorker would have preferred to see his rival Marine Le Pen in the Elysee.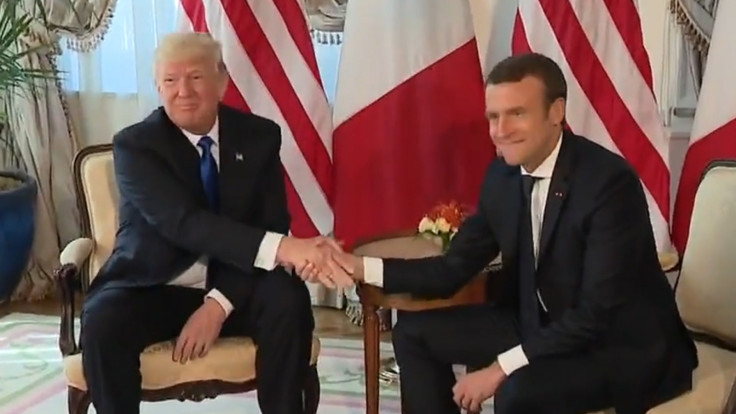 The handshake has immediately drawn an abundance of comment and analysis.
"They shook hands furiously – with Trump trying to pull his hand away and Macron holding onto it. Trump's knuckles turned whiter. It was 'Screw You' in handshake form," according to one BBC journalist.
It is not the first Donald Trump handshake to recommend itself as a collectors' item. Earlier this year he managed to grip Japanese Prime Minister Shinzo Abe for an astonishing 19 seconds in front of cameras at the White House.