Spain faces diplomatic wrath for allowing Syria-bound Russian warships to refuel
Russian naval fleet to dock at Spanish port of Ceuta for fuel and supplies after spending 10 days at sea.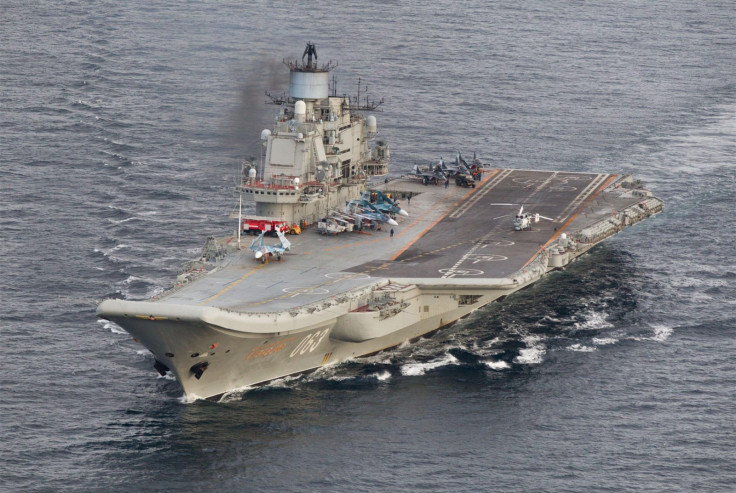 Spain has come under intense criticism after reportedly preparing to allow Syria-bound Russian warships to refuel in the Spanish port of Ceuta in North Africa. The Russian flotilla, led by the nuclear-powered battle cruiser Admiral Kuznetsov, is en route to Syria purportedly to step up Moscow's military campaign in the besieged city of Aleppo.
Shadowed by two Spanish vessels, the Russian vessels passed through international waters to Ceuta to take on fuel and supplies after spending 10 days at sea. Reports about the Russian fleet docking at the Spanish port surfaced shortly after it emerged that the Royal Navy accompanied the Russian warships when it passed through the English Channel earlier. Admiral Kuznetsov, Russia's only aircraft carrier, is flanked by two anti-submarine warships and four other support vessels in the voyage. The group is also thought to be carrying dozens of fighters and helicopters.
Political leaders and military authorities have expressed displeasure over Spain's move to allow the Russian ships to refuel at the height of the raging conflict in Aleppo. Nato Secretary General Jens Stoltenberg said: "It is for each nation to decide whether these ships can get supplies and refuelling in different harbours along the route towards the eastern Mediterranean.
"But, at the same time, we are concerned and I have expressed this very clearly, about the potential use of this battle group to increase Russia's ability and to be a platform for air strikes against Syria," adding that civilians in Syria could also come under the attack by these warships. Nato is constantly monitoring the movement of the eight-strong Russian armada, which would sail onwards to the eastern Mediterranean from where Nato fears Moscow would escalate the strikes on north-western Syria. Aleppo remains the only major stronghold city majorly controlled by anti-Assad rebels.
Earlier, Spanish media reports said Madrid's foreign ministry was reconsidering the pit stop permit issued to the Russian fleet. A UK government spokesperson was quoted by Sky News as saying: "HMG has previously expressed concerns to the Spanish government about its hospitality to the Russian navy when we have concerns about Russia's military activity. We are clear that the UK's relationship with Russia should not be business as usual."
Ceuta, claimed by Morocco as well, is a tiny Spanish enclave sitting on the tip of the northern coast of Africa. Since 2010, when the Spanish port became operational, at least 60 Russian ships have made technical stops, reports the Telegraph.
© Copyright IBTimes 2023. All rights reserved.