Republican Florida senator Marco Rubio has been booed off stage by a crowd of Latino voters in his home state. Rubio appeared at the Calle Orange festival event in Orlando, which is aimed at the Puerto Rican community, intending to be met by a crowd of his Latino supporters.
But as Rubio, who is of Cuban descent, was introduced in Spanish, the crowd began booing and continued to do so as he took the stage on Sunday (23 October).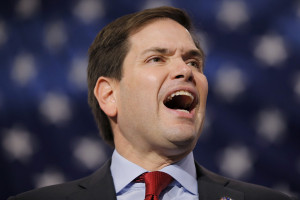 "Thank you for having me today," Rubio said in Spanish while ignoring the crowd's jeers, NPR reported.
"I want you to enjoy this day. We're not going to talk about politics today. Thank God for this beautiful day, and for our freedom, our democracy, our vote and our country. God bless you all, thank you very much."
Rubio has struggled to find the support of Latino voters since endorsing GOP nominee Donald Trump as president, and is now fighting a close race for re-election, having initially dropped his senate battle to run for president.
The former presidential hopeful is currently running for re-election against Democrat Patrick Murphy, and the pair are tied with the state's Latino voters, with whom Rubio has previously polled very well.
But given Trump's comments about building a wall on the country's southern border and suggesting that Mexico is sending rapists and criminals into America, Rubio's endorsement of the GOP nominee has not gone down well with the Latino community.
One member of the crowd, Angel Martin, told NPR: "Latinos might have differences amongst each other, but we're also united as one.
"And when we have someone like Trump, who hits our Mexican brothers, our Latino brothers, then you jump on that bandwagon after all that stuff he says not only about you personally ... as a Latino, you're a freaking sellout. I would not vote for him if they paid me."
Rubio did raise a few eyebrows when he publicly endorsed Trump, who had flung personal insults at the senator during primary season, referring to him as 'little Marco', while for his part Rubio was previously deeply critical of Trump's candidacy.
However, Rubio's campaign said he had been largely well-received at the non-political event, saying in a statement: "This is an annual event that draws thousands of people, including many Democrats.
"While there were some boos in the crowds, overall the reception Marco received at Calle Orange was very positive. In fact, Rubio supporters standing near the stage did not hear any boos while he was speaking.
"Marco kept his remarks short at the request of the hosts since it was not intended to be a political gathering," the statement added.
"Marco has worked hard on behalf of the Puerto Rican community - from leading efforts to help Puerto Rico out of its financial crisis, to awarding the Borinqueneers with the Congressional Gold Medal, and making student loans more affordable. If re-elected, he will continue to fight for the best interest of Florida's Hispanic community."