President-elect Donald Trump has announced his pick for Interior Secretary as Congressman Ryan Zinke from Montana, bringing his total number of cabinet picks to 13.
The choice of Zinke for the role, which involves responsibility for US federal land, has been praised by fossil fuel interests encouraged by Trump's commitment to support gas extraction, but prompted varied reactions from environmental groups concerned about wildlife preservation, The Hill reports.
"I am pleased to nominate Congressman Ryan Zinke as our Secretary of the Interior. He has built one of the strongest track records on championing regulatory relief, forest management, responsible energy development and public land issues," Trump said in a statement.
"As a former Navy SEAL, he has incredible leadership skills and an attitude of doing whatever it takes to win. America is the most beautiful country in the world and he is going to help keep it that way with smart management of our federal lands.
"At the same time, my administration's goal is to repeal bad regulations and use our natural resources to create jobs and wealth for the American people, and Ryan will explore every possibility for how we can safely and responsibly do that."
Zinke will need to carry out a balancing act in his role as Interior Secretary, ensuring Trump's pledges are met to protect wildlife and simultaneously increase land available for use by traditional energy companies.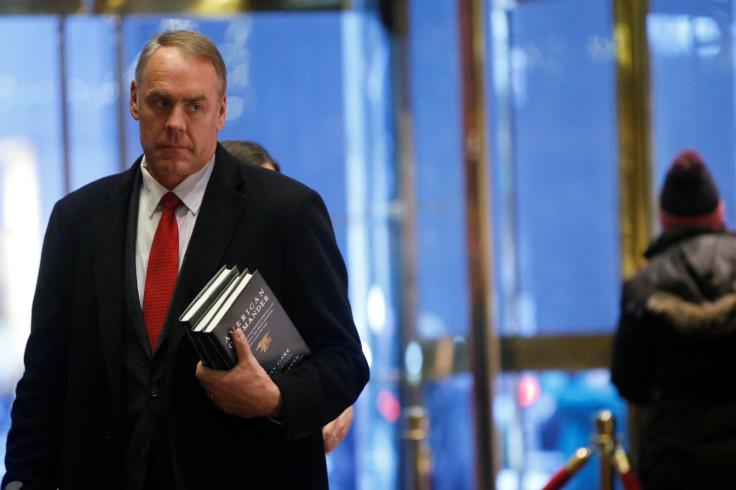 But environmental group, Defenders of Wildlife, expressed concern over Zinke's previous record on environmental protection.
"Rep. Zinke's legislative record reveals an alarming pattern of hostility toward wildlife and public lands during his short career as a congressman," Defenders' president Jamie Rappaport told The Hill.
"Rep. Zinke has consistently supported harmful, anti-wildlife legislation that would severely undermine the Endangered Species Act and remove or block protections for hundreds of imperiled species, including gray wolves and greater sage-grouse."
However, other environmental groups including the National Wildlife Federation praised the appointment.
"As someone who grew up in a logging and rail town and hiking in Glacier National Park, I am honoured and humbled to be asked to serve Montana and America as Secretary of Interior," Zinke said.
"As inscribed in the stone archway of Yellowstone National Park in Gardiner, Montana, I shall faithfully uphold Teddy Roosevelt's belief that our treasured public lands are 'for the benefit and enjoyment of the people.' I will work tirelessly to ensure our public lands are managed and preserved in a way that benefits everyone for generations to come.
"Most important, our sovereign Indian Nations and territories must have the respect and freedom they deserve. I look forward to making the Department of Interior and America great again."