Right-wing conspiracy theorists have claimed that a viral clip of Donald Trump awkwardly drinking a bottle of water is, in fact, a coded message about elitist corruption and possibly even a Democrat paedophile ring.
The extreme theory, which has been circulating on social media, builds upon a longstanding and completely unsubstantiated conspiracy that Hillary Clinton and other members of the Democrat party are involved in a child sex ring.
The infamous Trump clip shows the president reach for some water midway through a speech recapping his recent tour of Asia, given on 15 November.
Initially, he was unable to find any water and decided to continue with an audibly dry mouth before someone off camera alerted him to a bottle by the podium.
Trump then opened the Fiji Water branded bottle in a mechanical fashion – presumably because he didn't want to spill any in view of the cameras – and took an awkward double-handed sip before continuing with his speech.
Cue a thousand Twitter memes and a lot of laughter from his opponents. A trivial incident but a funny one.
That was until Liz Crokin, a self-described "investigative journalist" with her own website, claimed it was "obvious he [Trump] was sending a message" and also predictable that "brain dead MSM reporters would mock him" for the gaffe thereby leading people like her "to take note and research the significance of Fiji".
She added: "If you can't see that this was a strategic move, you don't understand Trump. Literally everything he does has significance, meaning, symbolism, etc."
Crokin's Facebook post, which has been liked almost 500 times and shared by nearly 150 people, claimed that there were "lots of working theories on what Fiji symbolizes", citing state-level corruption and the possibility that Barack Obama has a secret bunker there.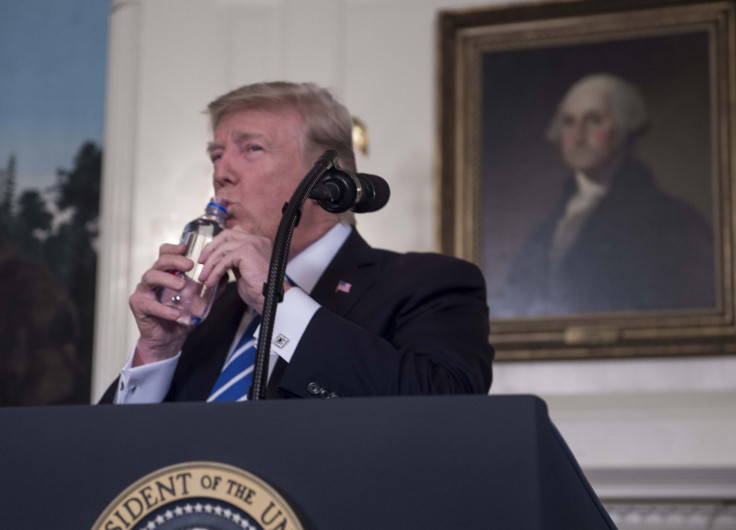 Some Internet users were quick to praise Crokin for her bizarre 'discovery': "I saw that and wondered, why did he open the water bottle like that? Lol that was classic!! Liz, for you to notice that is amazing. I'm going to watch it again," wrote Erin Kelly.
"Trump is brilliant, more brilliant when God chose him a long time ago for his plan," wrote Jennifer Parsons Lane.
Dissenters suggested that perhaps Trump was in fact genuinely thirsty but they were quickly rounded on by others: "He was acting," said Conni Conrad.
Sandra Snell Treece wrote: "What some people do not realise is Donald Trump has been studying the Illuminati cult from the time he was a young boy, reading and studying as much as he could get his hands on and learning their ways. He then immersed himself in the business world, rubbing elbows with the rich elite. He made friends with them and also with corrupt world leaders all the while, planning their demise."
While supporters of Crokin's theory were all agreed that Trump's apparent coded communication pointed a finger at establishment corruption, they could not agree on the exact meaning of the message.
Lauren Pritchard said: "Fiji has silica in it that flushes out Aluminum which is bad for our mental and spiritual development. It's a crystalline compound. Our bodies ARE becoming more crystalline."
But the starkest theory came from Angie Grisham Ethell, who posted a link to US Department of State report describing the island nation as "a source country for women and children subjected to sex trafficking... and forced prostitution".
This is most likely a reference to the so-called Pizzagate conspiracy, a debunked theory that went viral in the run up to the 2016 presidential election.
It alleges that Hillary Clinton and other senior Democrats are (or were) engaged in a child prostitution ring connected to pizza restaurants around the US. The entirely false claims have led to one disturbed individual firing gunshots into a restaurant implicated by the conspiracy.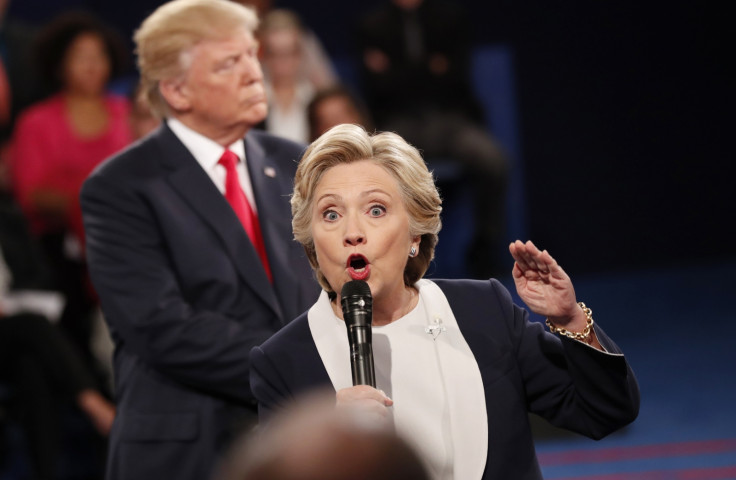 Today, all manner of events have been subsumed by conspiracy theorists to fit with the underlying concept of a Democrat paedophile ring, under the hashtag #followthewhiterabbit.
Barack Obama's call up to jury duty sent social media and messaging boards into overdrive while images of Chelsea Clinton, Hillary Clinton and John McCain each with casts around their injured ankles has prompted suspicions they have all been electronically tagged by police.
To anyone that deep in the world of conspiracy, Donald Trump's difficulty opening a bottle of water was clearly a powerful sign. We might actually be doomed as a species.