The GoFundMe page set up has soared beyond its target of half a million pounds. At the time of this story, £643,287 ($923,695, €819,169) had been raised by 20,878 people in one day.
"We are deeply humbled by the incredible wave of support this page has received," states the page set up by Cox's family. "Thank you so much to everyone who has donated, shared and mentioned this fund to friends, it is truly astounding to feel this level of solidarity and love for Jo and the values she stood for."
The fund, which was set up in honour of Jo Cox, sparked many positive messages in support of the life work of the Labour MP, who was previously head of policy for Oxfam, and an adviser to Sarah Brown and Baroness Kinnock.
"To be killed for her compassion and daring to care for others outside of Britain as well as here is the most sickening and hateful act of selfishness. I truly hope only good things come from such a tragedy," reads a message from one donor.
The GoFundMe team donated £25,000 themselves, with "deepest condolences", along with several anonymous donations of £1,000.
"After such senseless hate this week 'hope not hate' is key. If we can return to intelligent and respectful discussion maybe we'll be closer to the world Jo worked for," was the messaged that followed a £500 donation.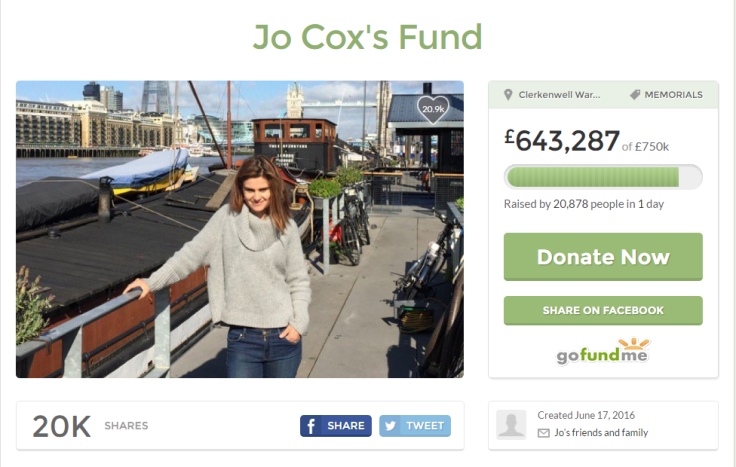 The crowdfunding campaign has also attracted generous international donors, expressing loving words: "With respect and admiration from the USA."
And from Australia: "Love not hate will always prevail. Jo sounds like one amazing woman. Special love to her husband and children from Perth W. Australia"
The donations will be directed towards three charities which Cox had admired and supported. The charities, which were chosen by her family, are the Royal Voluntary Service, Hope Not Hate, and The White Helmets.
The mother of two was killed on Thursday.
The charities chosen by Jo Cox's family:
The Royal Voluntary Service – supports volunteers helping combat loneliness in Cox's constituency, Batley and Spen in West Yorkshire.
HOPE not hate – seeks to challenge and defeat the politics of hate and extremism within local communities across Britain.
The White Helmets – unarmed and neutral volunteer search and rescue workers in Syria.
Source: gofundme.com/jocox