Speaking to a church congregation on Monday (16 January), Bernice King, the youngest daughter of civil rights activist Martin Luther King Jr, said that "God can triumph over Trump". On the occasion of Martin Luther King Jr Day, his daughter urged the audience at the Ebenezer Baptist Church in Atlanta not to give up hope.
"Don't be afraid of who sits in the White House," she said to a round of applause, following which she went on to commend the progressive efforts made by the fifth congressional district.
Bernice's comments were in response to a dispute between the president-elect and African-American congressman and MLK contemporary John Lewis.
In a televised interview, Lewis said that he did not view Trump as a "legitimate president" because of Russian interference in the elections. Trump shot back at the Democratic Party member tweeting that he was "all talk" and "no action".
On Monday, Trump also tweeted a message in memory of Martin Luther King, ahead of his meeting with the slain activist's eldest son. "Celebrate Martin Luther King Day and all of the many wonderful things that he stood for. Honor him for being the great man that he was!" he wrote.
Martin Luther King III met the president-elect at Trump Tower to address a number of issues including how to improve the US voting system. While it is unclear whether the two broached the topic of feud with Lewis, King did acknowledge the incident.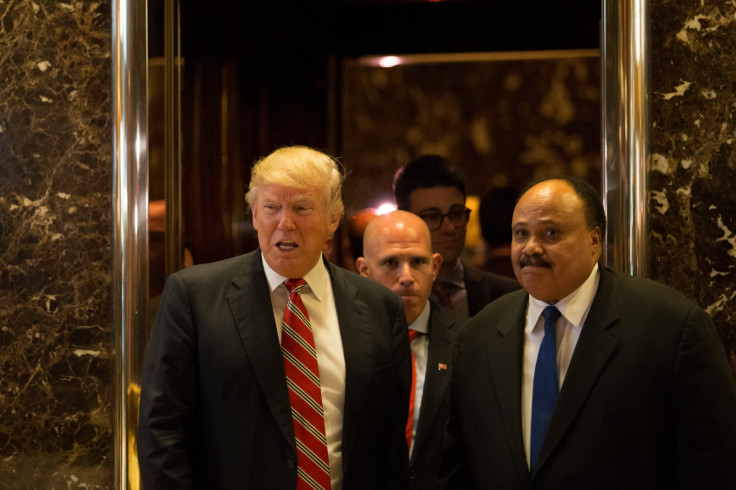 "Well, first of all I think that in the heat of emotion a lot of things get said on both sides. And I think that at some point -- I am, as John Lewis and many others, a bridge builder," he told reporters following his meeting, adding that he did not agree with Trump's comments.
"Absolutely I would say John Lewis has demonstrated that he's action," he said.
A number of Democrat leaders, however, were angered by Trump's comments about Lewis and are planning to boycott his presidential inauguration on 20 January.