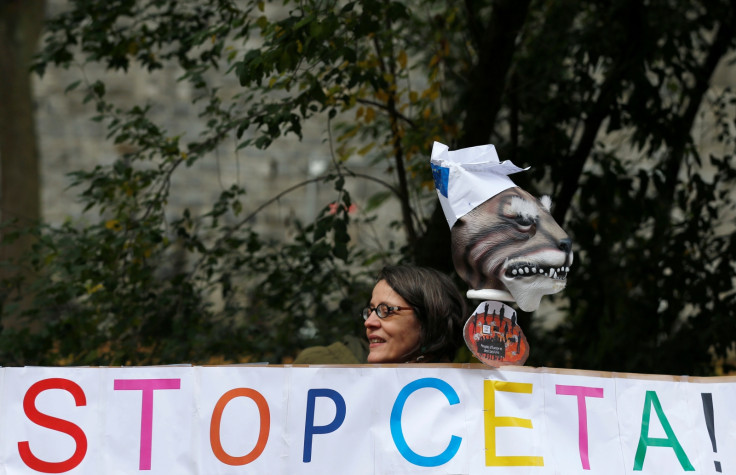 Politicians should not get "too carried away" with comparing the EU-Canada trade deal troubles with the UK's negotiations with Brussels, an EU expert has warned.
Vincenzo Scarpetta, a senior policy analyst at the Open Europe think-tank, told IBTimes UK that the Comprehensive Economic and Trade Agreement (CETA) is in a different "spirit" to the planned Brexit talks.
"We shouldn't get too carried away with comparisons because we knew the Brexit negotiations are going to be complex, we didn't need the CETA saga to find out," he said.
"But the reason why I'm cautious is because we are talking about two very different deals."
Scarpetta explained a comprehensive free trade agreement between the EU and UK would have to go through the same ratification process as CETA, but Britain would be starting from an entirely different position to Canada.
"CETA is a liberalising trade deal, while the aim of the UK-EU deal would be to try and keep current levels of trade liberalisation or alternatively go backwards. So the spirit of the two deals is completely different," Scarpetta said.
The comments come after Belgium Prime Minister Charles Michel secured a major breakthrough in talks with the socialist-led Wallonia region, which had previously blocked the deal over farming and welfare concerns.
The development meant the signing of CETA was back on track after an EU-Canada summit, originally planned for 27 October, was cancelled. The amendments to the trade deal will now have to be approved by the other 27 nations of the EU.
European Council President Tusk has promised to contact Canadian Prime Minister Justin Trudeau once those procedures are finalised.
The University of Michigan's Professor Linda Lim said the CETA saga should be "cause for concern" for the UK.
"The unwinding is going to be difficult, particularly if Britain takes a hard stance on refusing to accept certain conditions which might be important to some province or region in the EU," she said.
"This initial failure of CETA makes it much more difficult for Britain to negotiate something with the EU."
Lim added: "The fact that such a small place can hold so many people hostage clearly speaks to the institutional problems that the EU should have sorted out. "It sets a really bad precedent. If you let this continue, any small group of people can hold 500 million people hostage.
"The reasons, in this case, are not frivolous, but it should have been negotiated and not allowed to happen in the first place."
UK Prime Minister Theresa May has ruled out giving a "running commentary" on her government's negotiations with the EU.
But the Conservative premier has promised to end free movement of people — one of the EU's four freedoms — and to trigger Article 50, the official mechanism to split from Brussels, by March 2017.