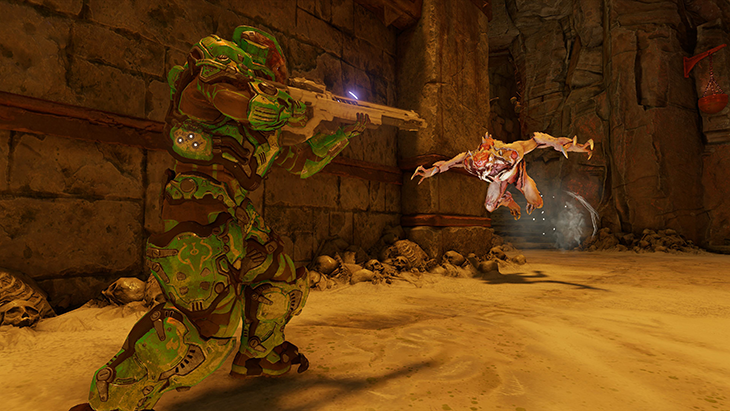 Doom's fourth free update is now live. It introduces a score-based arcade mode to the game's single-player campaign and two new multiplayer modes: team-based Possession mode and free-for-all Bloodrush mode.
Id Software's new arcade mode unlocks all guns, runes and equipment upgrades from the start, rather than players having to search an unlock for these items themselves in the normal campaign.
"Customise your Doom Marine's gear, guns and Praetor suit before each run to see what combinations will give you an edge," Bethesda explains.
"Compete against friends and players worldwide for the highest score by attacking demons quickly, avoiding their attacks and grabbing multipliers along the way.
"This is a perfect opportunity to replay one of the best single-player FPS experiences of 2016, and for the speed runners out there to make their mark."
New multiplayer Possession mode pits Marines against Prowler demons with the twist that fallen Marines will reappear as Prowlers, "putting pressure on the remaining marines."
"It's an exciting mode that will force players to think about survival as much as fragging," Bethesda said.
The second new mode, Bloodrush, is a free-for-all mode where kills and assists add to your Bloodrush meter that otherwise gradually drains over time and does so faster if you die. As the match rolls on, your meter will drain at a faster pace until one player is left standing.
The latest update also adds new classic Doom modules to the level-creating SnapMap feature, allowing maps to be created and played using assets from older Doom games including props, interactive items, classic player deaths, sounds and music.
Developer id Software has also included "some classic maps" for players to try their hand at before other users come up with their own unique creations as well.
Here are the complete patch notes for Doom's latest update:
Doom's second batch of multiplayer DLC, called Hell Followed, will be released on 27 October.