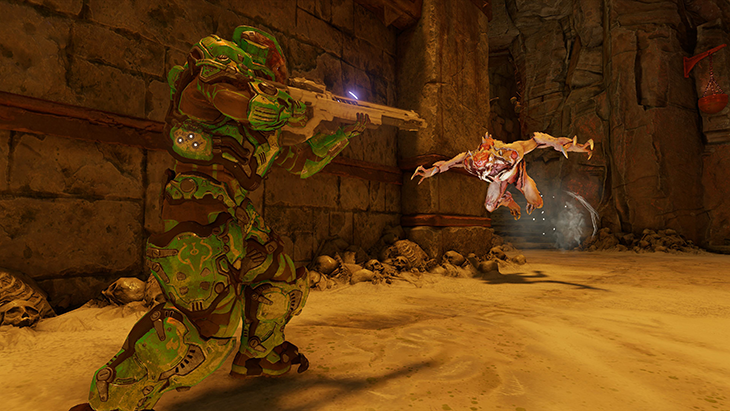 Doom's fourth free update is now live. It introduces a score-based arcade mode to the game's single-player campaign and two new multiplayer modes: team-based Possession mode and free-for-all Bloodrush mode.
Id Software's new arcade mode unlocks all guns, runes and equipment upgrades from the start, rather than players having to search an unlock for these items themselves in the normal campaign.
"Customise your Doom Marine's gear, guns and Praetor suit before each run to see what combinations will give you an edge," Bethesda explains.
"Compete against friends and players worldwide for the highest score by attacking demons quickly, avoiding their attacks and grabbing multipliers along the way.
"This is a perfect opportunity to replay one of the best single-player FPS experiences of 2016, and for the speed runners out there to make their mark."
New multiplayer Possession mode pits Marines against Prowler demons with the twist that fallen Marines will reappear as Prowlers, "putting pressure on the remaining marines."
"It's an exciting mode that will force players to think about survival as much as fragging," Bethesda said.
The second new mode, Bloodrush, is a free-for-all mode where kills and assists add to your Bloodrush meter that otherwise gradually drains over time and does so faster if you die. As the match rolls on, your meter will drain at a faster pace until one player is left standing.
The latest update also adds new classic Doom modules to the level-creating SnapMap feature, allowing maps to be created and played using assets from older Doom games including props, interactive items, classic player deaths, sounds and music.
Developer id Software has also included "some classic maps" for players to try their hand at before other users come up with their own unique creations as well.
Here are the complete patch notes for Doom's latest update:
CAMPAIGN
Added Arcade Mode for all players
MULTIPLAYER
Added the new FFA mode called Bloodrush
Added the new team-based, Prowler vs. Marine mode, Possession
SNAPMAP
New DOOM Classic Campaign
Feature Pack Campaign mission including new classic DOOM levels
Classic DOOM Content
New classic DOOM modules, props, interactable items, lifts, pickups, sounds, classic player deaths and music
Community Support
Community Curation system enabling new maps to be published to be reviewed and recommended by the community
Community HUB overhaul to make finding your favorite content easier
SnapFeed support allowing users to subscribe to authors, players and maps to get up to the minute details on new content
Custom Environment Creation
Detailed hotspot and tiling textured blocking volumes can be used to create custom environments
Decal Tool to add blood, numbers, demonic symbols, grime, corrosion, etc. to your maps
Massive update of new Hell and UAC environment props
New container object models
Additional Logic Tools
Copy content and logic from one map to Paste into another
Created multi-level campaign using Next Map Logic
Added Hazard and FX as a category of Spawners
Set color input added for all volumes and hazards
Snap Grid Offsets added to editor settings to allow authors to offset in XYZ coordinate space
POI can now be set on spawner items
Authors can get precise camera position by previewing the camera view within the editor
Added set environment and fade to camera properties
Authors can set their editor view to ignore current module environment settings
Cylinder volumes can be used as shootable triggers
Added support for silent (no VO announcements) lockdowns
No longer need to set a DOOM ID to post to map leaderboards
Additional DOOM Single Player Consistency
Additional DOOM weapon upgrades from Campaign – mastery versions of the HAR and Combat Shotgun
Campaign-styled communication HUD elements
Editable interactable GUI
Additional FX and Hazards
Added Rune Tablet interactable
Publish maps with Campaign intro screen and lobby
Additional equipment pickup items
Add Static keycard and weapons props
Added setting to disable hit feedback sounds
Added setting to disable damage indicators
Added setting to disable AI teleport FX
Added Berserk powerup
More Stuff
Additional Armor and Weapon Customization Skins
Revenant Player Demon
Usable volumes will now work in the front of doors
Blocking Volumes (previously called Player Blocking Volumes) now default to static and visible when placed
AI can now be affected by Blocking Volumes
Some props can have their FX toggled on and off
Doom's second batch of multiplayer DLC, called Hell Followed, will be released on 27 October.