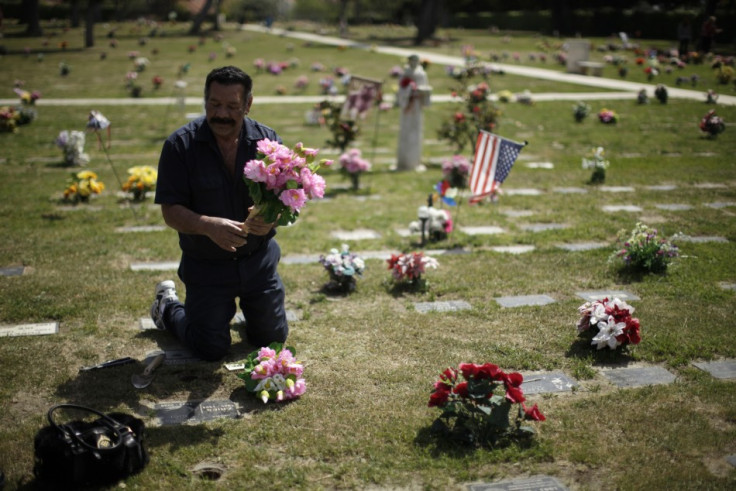 A double amputee is suing for access to the grave of his two-legged cat. Frank Iannaggi, of Ohio, claims new landscape barriers are preventing him from honouring his dead feline.
Mantua resident Iannaggi says he has been a regular visitor at the grave of Yetty, who was born without back legs, since she died in 2011. Iannaggi lost both of his legs from a vascular disease.
The 58-year-old claims Yetty's grave was deliberately laid near a driveway so he could view it without getting out of his car. But a plot of land near the cemetery was recently sold and the new owners have installed barriers preventing him from reaching his cat's final resting place.
"She was just a special animal," said Iannaggi. He claims his daughters rescued Yetty from the woods when she was a kitten. Despite only weighing four pounds she was reported to be very brave.
"The kids brought her back to life," Iannaggi told Akron Beacon Journal . "It was a miracle thing for them."
He has filed a discrimination lawsuit against John and Patricia Roman, the owners of the property that had previously been part of the pet cemetery. He alleges that he is being discriminated against because the Roman's have installed barriers and large mounds of earth that prevent him from seeing or approaching Yetty's grave.
"All Frank had to do was drive up and he could see right where his kitten's plot was buried," said Vivian Kloak, the cemetery's vice president and secretary. "He didn't have to get out of the vehicle, didn't have to get his wheelchair out."
"He's the innocent bystander and he's getting hurt in all of this," she said. "To Frank, this cat was an inspiration. He can't even go and mourn the death of Yetty properly because he's being kept away. I just think that's wrong."
The newspaper says the owners and their attorney declined to comment.