Ferry services between Dover and Calais have resumed this morning in both directions (2 July), P&O Ferry said. In a tweet, the company said: "There will be a sailing every two hours from Dover to Calais."
Kent Police said that the Port of Calais remains affected by the ongoing industrial action in France and warned motorists of significant delays: "Whilst ferry services to and from the Port of Dover continue to be affected, the Port of Calais has started to allow one sailing at a time to enter the port."
Kent Police said Phase 4 of M20 Operation Stack (the parking of lorries on the side of the motorway during service disruption) is now in place.
The M20 is closed coast-bound between junctions 8 (Hollingbourne) and Junction 11 (Standford), and London-bound between Junctions 9 and 8.
MyFerryLink workers have been staging a strike to try and prevent job cuts following the sale of the company in June 2015 to Danish rival DFDS.
The strike action has resulted in massive disruptions and halts to services on both the Eurostar and ferry services.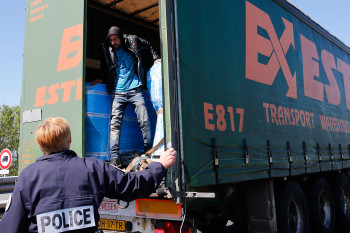 Migrant crisis and economic chaos
Migrants camped at Calais have also been taking advantage of stalled and slow moving traffic by trying to board vehicles bound for the UK.
P&O Ferries chief executive Helen Deeble has criticised the British and French governments as well as Eurotunnel, pointing out that P&O employs thousands of people on both sides of the Channel.
She said "this damaging and dangerous industrial action is now putting those jobs at risk," PA reported.
The Road Haulage Association said the action was having a "massive effect" on the UK economy and was placing livelihoods and lives of hauliers at risk.
Richard Burnett, the association's chief executive said: "The UK and French governments must acknowledge their responsibilities to all Port of Calais users, move in and act. If this means deployment of the armed forces then so be it.
"Let's get this desperate mess sorted out now and talk about a long term solution afterwards. The scale of the current situation has to be seen to be believed. The only words to describe what is happening there is absolute mayhem."
Burnett said there appears to be "very little if any security, and demonstrators have closed both the Eurostar and LeShuttle tunnels".
Kent County Council said it had distributed 2,000 bottles of water and 750 meals on Tuesday (30 June) to lorry drivers caught in Operation Stack and a further 5,000 bottles and 200 meals were handed out on 1 July.