Presidential candidate Moise Katumbi has been in talks with the United Nations (UN) about ensuring his safety as he plans to return to the Democratic Republic of Congo (DRC), in defiance of a warrant for his arrest.
Katumbi is seen as the leading challenger to President Joseph Kabila in elections due to be held in November 2016, but a recent criminal conviction effectively made him ineligible to stand. The football magnate, who is currently in exile in Belgium, has not been on Congolese soil since 20 May, when he flew to Johannesburg to seek medical treatment.
His decision to return to the DRC followed the revelation on 26 June that Katumbi's conviction for 36 months in prison and fined $6m (£4.1m) in damages was made under duress.
Judge Chantal Ramazani Wazuri, who found Katumbi guilty of illegally selling a property in Lubumbashi on 22 June, alleged she had done so under pressure from the director of the country's national intelligence agency (ANR), Kalev Mutond.
ANR denies pressuring Judge into convicting Katumbi
The public relations office of the ANR, meanwhile, has rejected Ramazani Wazuri's claims.
In a written statement published on 27 July, head of the department Pierre Tshitenge Disashi wrote: "The general administrator of the ANR has never had contact either direct or indirect with this judge, who he does not even know".
Asked to comment, Katumbi's brother Raphael Katebe Katoto exclusively told IBTimes UK: "Would anyone imagine Kalev admit he pressured the judge to convict Moise? He would never admit that and defend himself."
This, Katebe Katoto claims, shows corruption is at the heart of the Congolese judicial system and that, by extrapolation, the arrest warrant for Katumbi on separate charges of hiring foreign mercenaries — claims he denies — should be dropped.
But the statement, in which Tshitenge Disashi asked for an investigation to be opened on the judge, also insisted the forgery and falsification charges against Katumbi would "continue".
Katumbi and Katebe Katoto 'in talks for UN' for protection
The fact the government does not recognise Katumbi's conviction as void effectively heightens the risks of arrest if the opposition leader and his brother carry out with their intention to return to the DRC as soon as 30 July. (Read more: Moise Katumbi will return to Kinshasa on 30 July, says brother).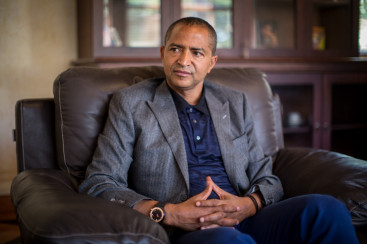 "One must not forget that we are now entering a highly complex and turbulent period, and we are facing a power struggle now. We have the Congolese population [behind] us, which we demonstrated yesterday, but on the other side there is the army, police, the administration, the central bank so they use everything for them," Katebe Koto said over the phone.
He added: "We are trying to organise his potential arrival in DRC with the UN and Monusco today and tomorrow to see if all the parameters are in place to ensure that we are safe."
According to the UN Security Council, Katumbi previously wrote a letter to Monusco requesting protection the day after announcing his candidacy "because I am in danger, my security is not guaranteed". At the time, the peacekeeping mission's leadership decided it could not get involved with a presidential candidate in this way.