Two people have been found guilty of deliberately destroying a house in Lancashire as part of an elaborate insurance scam.
Samuel Todd, 27, and Ryan Ibbitson, 23, both of Accrington, were convicted of pouring several gallons of petrol onto the house on Cumberland Avenue in Clayton-le-Moors in April 2014 before setting it alight in order to claim insurance.
Dramatic CCTV footage taken from across the street shows the pair approaching the property just after 2am before disappearing round the side of the house. Todd and Ibbitson are then seen running down the street following a huge explosion.
No one was inside the house at the time, but the blast caused so much damage that it eventually had to be completely demolished.
The explosion also caused major damage to a neighbouring property. Luckily, the residents of the house next door were on holiday at the time, but were forced to move out for more than two years while repairs were undertaken.
Following an investigation into the fire, police found that Todd and Ibbitson caused the explosion to put in an insurance claim for damaged property, as the house was being rented by a friend of theirs. The friend has been cleared of any involvement in the fraudulent claim.
Two days before the fire, Todd had called police to report a break-in at the property and that the words "thieving scum. I'm going to burn you down" had been scratched onto the TV.
Police later uncovered fire-damaged clothing as well as a petrol canister and lighter from two cars belonging to Ibbitson.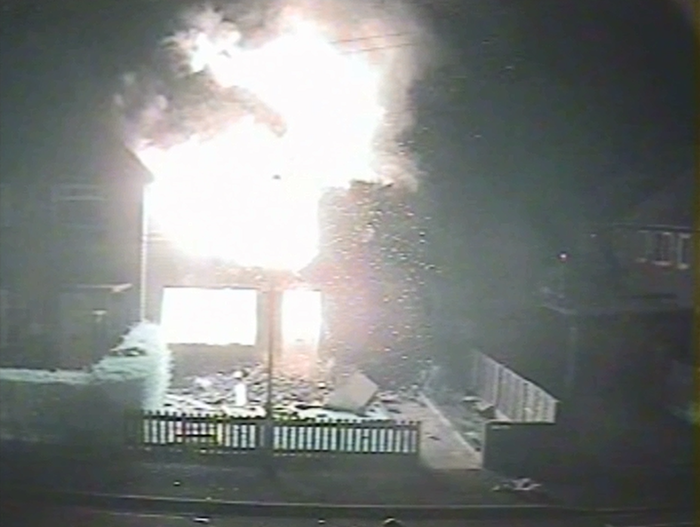 Following a trial at Burnley Crown Court, both men have now been found guilty of conspiring to commit arson and conspiring to commit fraud. They had both previously pleaded guilty to a separate charge of being concerned in the production of cannabis.
Detective inspector Tim McDermott, of Lancashire Police, said: "I welcome the conviction of these two men and would like to thank the jury for the time and concentration they have put into a very complex case.
"In over 20 years in the police service I cannot recall two suspects who have twisted and altered their accounts as often as Todd and Ibbitson did in an attempt to avoid the consequences of their actions. From the start they believed they could lie their way out of trouble, and it is thanks to a meticulous investigation that justice has now been served.
"I would also like to thank the witnesses who gave evidence, and for their patience during what has been a very long process.
"The residents of Cumberland Avenue had their homes and lives put at risk and the disruption since has been long and very upsetting. I hope this verdict now offers them some comfort, and they can move forward knowing Ibbitson and Todd will face the consequences of their actions."
The pair are due to be sentenced on 15 August 2017.