Threats made to presidential hopeful Moise Katumbi by President Joseph Kabila's government could lead to "confrontation" amid heightening tensions in the Democratic Republic of Congo (DRC), an adviser to the opposition leader has told IBTimes UK.
Katumbi was flown to on 20 May to Johannesburg in South Africa to receive medical treatment a day after Congolese authorities issued an arrest warrant for him, accusing him of hiring foreign mercenaries in an alleged plot against the state – claims he denies. On 25 July, Justice Minister Alexis Thambwe Mwamba warned Katumbi – a political ally-turned-rival backed by the G7 opposition group – would be arrested if he returned to the country, where he has not returned since.
"If Mr Katumbi returned to DRC, he will be sent to prison, that is the law," the Minister said.
Katumbi 'not surprised' by incarceration threats
Former Planning Minister Olivier Kamitatu, an adviser to Katumbi, said the candidate, who is currently in Europe, was not surprised by the decision.
"Not only have we got his condemnation to three years of prison, but now we also have the threat from the Minister of Justice of his immediate arrest if he sets foot on Congolese soil. We can sense that the Presidential camp absolutely wants to remove Katumbi from the electoral race in a totally illegal way with a judicial frame up," Kamitatu said in an exclusive interview to IBTimes UK.
The presidential elections are scheduled for November 2016, but Kabila has not commented publicly on whether he plans to step down when his second term expires, as he would be required to do by the constitution. Preparations for the poll are at a standstill "given the absence of an agreed electoral calendar, a budget for the elections or a national dialogue to reach agreement on these questions", according to the United Nations Security Council, which has expressed "deep concern at increased restrictions of the political space in the DRC".

'We're heading for a confrontation'
Tensions are extremely high in the country, and conditions for a political dialogue or negotiations to reach an agreement ahead of the elections have not been met, according to the opposition.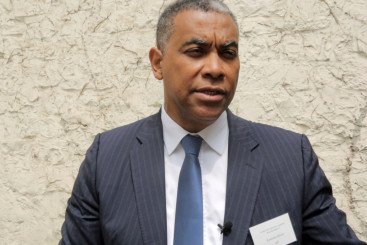 Kamitatu, an opposition G7 coalition member, explained that the "Rassemblement", a new opposition platform, would refuse to attend the electoral negotiations with Kabila's regime.
The platform of DRC's main opposition parties was established on 8-9 June when 2011 elections runner-up Étienne Tshisekedi held a conference in Genval in Belgium.
"It's clear today that the conditions posed by the opposition to hold the national dialogue – liberating the political space – are not met. Certainly, there was a gesture from Kabila with three pardon orders to liberate prisoners including the LUCHA youth activists but those renewed threats mean the commitment by the facilitation has failed. It is no longer a dialogue but a monologue. As long as we don't have a political agreement, we're heading for a confrontation."
Threats against Katumbi are carried out within a specific context of riots in Kisangani, in DRC's north-east, where at least two people were killed in confrontations between taxi bikers protesting arbitrary arrest and security forces. "The repression was brutal because people were shot to death," Kamitatu said. "Only the pressure from the international community and the pressure from the people will enable us to do something."
Vital Kamerhe's Union for the Congolese Nation (UNC) party, meanwhile, on Tuesday (26 July) confirmed it would be part of the preparatory committee.
DRC jail awaits Katumbi if he returns
Leading opposition figure in the Democratic Republic of Congo (DRC), would be arrested if he returned to the country. This is according to the Justice Minister Alexis Thambwe Mwamba who was speaking on Monday.
The TP Mazembe bank roller had earlier this month told Reuters news agency that he would return to the DRC where he had a 'fight.' "I'm going back to Congo. I've got a fight, a peaceful fight for our country to have the first peaceful transition," Katumbi said.
"If Mr Katumbi returned to DRC, he will be sent to prison, that is the law," the Congolese Justice Minister Alexis Thambwe Mwamba. "For the latter, it is not a political conviction, let alone a special provision invented against him [Moise Katumbi]".
Currently in the DRC, there are two cases concerning Katumbi pending before the courts. A Court of Appeal in Lubumbashi is hearing a case of he (Katumbi) having threatened state security by recruiting US ''mercenaries" to destabilize the country.
On June 22, a month after he left to seek medical care abroad, the wealthy businessman was sentenced to three years in absentia in a property theft case. His lawyers have dismissed the sentence as part of a political witch-hunt.