UN urges peaceful transition to prevent chaos as DRC President Kabila's term ends
UN delegation told President Kabila 'a third term has not been considered as a solution to the crisis'.
The United Nations Security Council (UNSC) has urged for a "peaceful transition of power" at the end of the President Joseph Kabila's mandate next month to prevent the Democratic Republic of Congo (DRC) from slipping into chaos.
The country has faced a political impasse after it became clear that presidential elections originally scheduled for November 2016 would not take place, a move critics say is an attempt by President Kabila to try to hold on to power in Africa's largest copper producer.
Tensions are running high in the African country after participants in the national dialogue on elections signed an agreement to hold the elections in April 2018 – until when Kabila vowed to stay on.
However, the agreement is boycotted by several of the main opposition groups, which have formed a coalition called "Rassemblement".
Watchdog Human Rıghts Watch (HRW) last week warned of chaos in the DRC should Kabila insist to stay in power beyond his term, which ends on 19 December, as stated in the constitution. The opposition demands that the House is freed on 20 December.
UN: Third term is no solution to crisis
During a visit over the weekend, a UN security council delegation said a third term would be no solution to the political crisis.
"The DRC is at a pivotal moment in its history. For the first time, a peaceful transition of power at the end of the president's mandate is possible," Francois Delattre, France's ambassador to the UN, told press after the meetings on 12 November.
Angola's ambassador to the UN Ismael Abraao Gaspar Martins said: "We have assurances. There is a desire from everyone to avoid the worst [...] The Security Council is ready to work with you so that there is peace. A third term has not been considered as a solution to the crisis. The solution lies in permanent dialogue."
The DRC witnessed violence on 19 September after clashes between security forces and protesters left 50 dead. Police fired tear gas and live bullets to disperse a peaceful march demanding that Kabila steps down.
Co-lead by Delattre and Martins, the delegation called on Congolese political and social actors to "take greater responsibility to adopt a consensual and inclusive electoral calendar and asked that the ban on public demonstrations be lifted".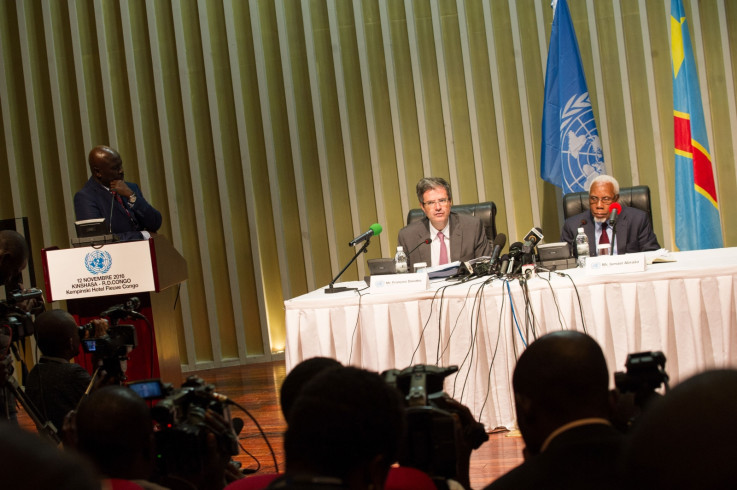 UN Security Council's members France's Francois Delattre (C) and Angola's Ismael Abraao Gaspar Martins (R) speak to press ahead of the delegation's visit in Kinshasa, DRC
JUNIOR D.KANNAH/AFP/Getty Images
Kabila's mixed messages about constitutional changes
Discussing political and security developments in the DRC, the government sought to alleviate fears Kabila would cling to power by changing the constitution to let his run for a third term.
Leonard She Okitundu, a senator representing Kabila's ruling coalition told the UN delegation: "There is no question of a third term because the constitution forbids it," he said. "There can be no third term."
Okitundu's comments came after mixed messages from Kabila, who hinted at the possibility of a third term during the diplomats' visit this weekend. While the 45-year old conceded that the current constitution did not allow a third term, he hinted explained that a constitutional amendment to allow him to do so was not illegal.
The issue was highlighted by Stephen Hickey, political counsellor at the UK Mission to the UN, who Tweeted: "UNSC asked DRC Pres[ident] Kabila to confirm he would not run in election. He said Constitution clear on no 3rd mandate but could be amended [...] Very concerning that Pres[ident] Kabila mentions possibility of amending constitution when asked straight question on standing for 3rd term."
Earlier in October, France said a delay in the elections is not the answer to the crisis, and announced it was seeking EU sanctions to press Kabila to step down. This was echoed by the European Union's Foreign Affairs Council, which on 17 October urged Congolese stakeholders that the "[national political] dialogue must lead to the holding of presidential and legislative elections as soon as possible in 2017."